Just over two months after launching operations, US start-up carrier Avelo Airlines is pulling back service to several of its launch cities, and raising prices.
The low-cost airline, headquartered in Houston, on 7 July published its schedule through mid-January, and conspicuously absent were three destinations to which it started flights in April and May: Bozeman (Montana), Mesa (Arizona) and Grand Junction (Colorado).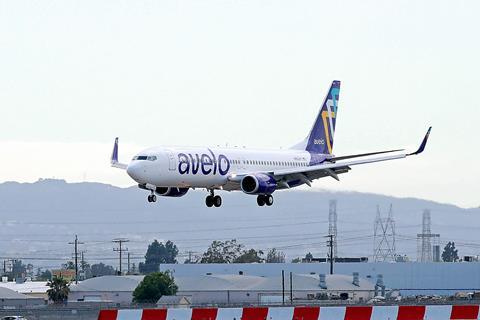 Avelo's home base is Hollywood Burbank airport, in the Los Angeles metropolitan area, and its aircraft typically run out-and-back trips on all of its routes, returning to Burbank every evening.
Test flight bookings on the company's website to Mesa, Grand Junction and Bozeman showed no direct flights to those destinations beyond mid-September.
"These schedule changes include two markets where current customer demand is insufficient for us to justify continuing to fly beyond the summer," Avelo says. "We will re-evaluate returning to both markets for the summer of 2022."
The flights to Grand Junction will cease on 16 August and to Bozeman on 15 September, Avelo says. Even though the airline says it is still flying to Mesa after September - just tweaking times and days of service - it is currently not possible to book those flights.
The airline adds that it will be "announcing several new west coast destinations in the near future".
In addition, the carrier appears to be abandoning flying on Wednesdays and Saturdays - generally days when leisure demand is low - and doubling its checked bag fee to $20 from $10. While the airline's introductory fares were as low as $19 one-way, the lowest fare now available is $39 one-way.
Avelo began selling tickets on 8 April and started flight operations three weeks later. It was one of two new domestic airlines that entered the US market this year. The other is Breeze Airways, which began flying in the southeastern USA at the end of May.
Avelo, a project led by ex-United Airlines chief financial officer Andrew Levy, is backed by $125 million in private equity and is began operations with a fleet of three Boeing 737-800s. At the time, Levy said he hoped to expand to up to six aircraft by year-end. The cabins have high-density, 189-seat configurations.
In its initial phase, the carrier offered flights from Burbank to eleven destinations in the western third of the USA. Avelo chose cities which have limited air service, like Medford, Oregon and Pasco, Washington, but also flies to secondary airports near larger metropolitan areas like Salt Lake City (Ogden) and Phoenix (Mesa). The carrier's target customer is the price-conscious leisure passenger looking for an easy connection from the Los Angeles area without the hassle of dealing with a huge airport like Los Angeles International.
"Our operation and booking trajectory are both strong," Avelo says. "In fact, the extended July 4th holiday weekend was our busiest and best-performing stretch yet."
In May, the company said it plans to expand to the US East Coast in the third quarter, launching a crew base at Tweed New Haven airport in Connecticut. Tweed, located within the populous New York metropolitan area, has struggled to retain air service in recent years.
Avelo said at the time that it will operate Boeing 737-700s out of the airport, but has not yet disclosed which routes it will serve.
Updates on 7 July to add Avelo Airlines comments on the changes. Updates on 8 July to clarify Mesa flights.