Air Lease executive chairman Steven Udvar-Hazy believe Boeing should drop the word "Max" from the name of its latest Boeing 737 family, following two fatal crashes and the subsequent grounding.
"We've asked Boeing to get rid of that word Max," Udvar-Hazy said at the Airline Economics Growth Frontiers conference in Dublin today. "There's no reason why Boeing can't call it a 737-8 , 737-9, 737-7."
He adds: "The Max brand is damaged and there's no reference to Max in any of the documentation that Boeing submitted to the regulators, it's just the 737."
Calling the Max grounding a crisis "unprecedented in my 50 years in aviation", Udvar-Hazy notes that it remains unclear when the Max will be approved by regulators to return to service, although he is hopeful that it could be within the next 90 days, albeit that "it almost feels like every week there are new developments that cause us to be concerned about the timeliness of return to service".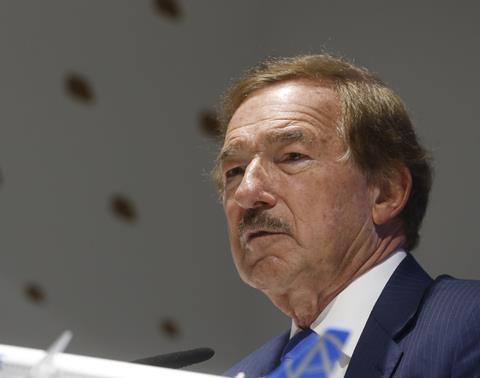 Once the Max does return to the skies, passengers may be hesitant to fly on the aircraft, Udvar-Hazy suggests – a factor likely to vary from market to market. Renaming the aircraft could help to overcome some of these fears, he argues.
Boeing will likely deliver around 50-60 Max jets per month once it is given the all-clear, including new-builds and aircraft from storage, he expects. This number, in his view, is low enough to avoid flooding the market with new capacity and driving down aircraft valuations.
Air Lease has 42 Max aircraft, 15 of which were delivered prior to the grounding. The remaining 27 aircraft have been built for Air Lease customers since the grounding but remain undelivered. In total, this represents over $2 billion-worth of aircraft that are not able to fly. A further 15 Max jets are scheduled for delivery to Air Lease customers this year.
Udvar-Hazy adds that while lease rates for the Max have been damaged by the grounding, values will likely return to normal by around 2021.
"When we signed our [Max] leases rates before the accidents, they were running generally 10-15% higher than the aircraft they were replacing [Airbus A320s and 737NGs]," he explains. "No question there'll be a temporary dip on the lease-rate values," he adds, although Airbus is unable to supply all the new capacity that the market requires, which will support lease valuations in the longer term.