Management at German leisure carrier TUIfly and pilot union Vereinigung Cockpit are blaming each other for a breakdown in talks about restructuring measures amid the air transport crisis.
TUIfly says it withdrew from the talks because the union refused to accept that "compulsory redundancies cannot be avoided", and adds: "Despite all efforts over the last few months, we were unable to come to an agreement with Vereinigung Cockpit's collective bargaining commission on sufficient long-term measures."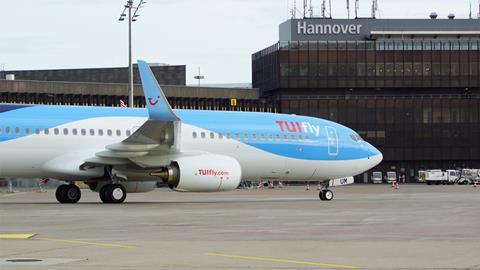 The union, however, says its members are willing to make "substantial crisis contributions" and do "everything possible for them" to help navigate the airline through the crisis, highlighting their readiness to boost flexibility and productivity and to reduce working hours in order to prevent job cuts.
TUIfly confirms that it plans to cut its fleet to 17 Boeing 737s. That number, the airline says, is based on the premise that all aircraft can be filled year-round by capacity required for TUI Group's German tour operating business alone.
The Hannover-based airline operated 39 737s before the crisis and keeps 21 ready for operation today.
Among the 39 737s were seven operated under wet-lease agreement for Eurowings, which, TUIfly says, will end as a result of the crisis. The remaining 32 aircraft were used for TUI's own holiday business, external tour operators and direct seat-sales. TUIfly predicts, however, increased competition in Germany in these areas when demand recovers.
The carrier says the union talks were aimed at evaluating the possibility of operating more than 17 aircraft and therefore making fewer staff redundant, provided new labour terms could be agreed that facilitate flexibility when the additional capacity is not required outside peak season.
Despite the dispute with the union, TUIfly tells Cirium that the airline's door is keeping the door open to a deal. Current labour agreements are in place that prevent compulsory redundancies until the end of 2021. If new terms were to be agreed and additional aircraft deployed, the airline's requirement to purchase external capacity during peak season could be reduced, TUIfly says.
Vereinigung Cockpit accuses TUIfly of pursuing "restructuring with no perspective at the taxpayer's expense". TUI has received from the German government €3 billion ($3.5 billion) in financial aid across two support packages since April.
Along with the Verdi union – which represents flight attendants and ground staff – and members of TUIfly's works council, Vereinigung Cockpit has requested support from multiple federal ministries and the state government of Lower Saxony where TUI is headquartered.
Verdi fears that TUIfly intends to close its Hannover maintenance facility – switching work to facilities in Belgium and the UK – and more than halve the airlines bases in Germany.
Updated to reflect additional information provided by TUIfly