Canada's Unifor union has sharply criticised US-based pilot union Air Line Pilots Association, International (ALPA) for "interference" in pilot-contract negotiations with cargo and charter carrier Cargojet.
The Canadian union, which represents 16,000 aviation workers in that country including pilots, air traffic controllers and maintenance personnel, calls ALPA "self-serving" and "ill-informed" in a public rebuke on 8 May.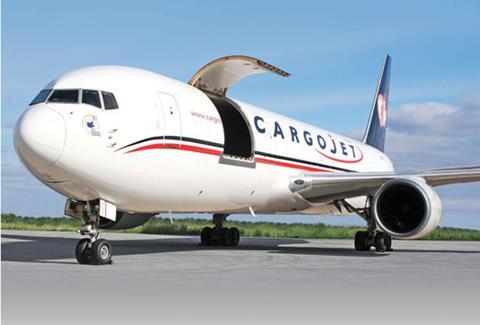 The spat erupted when ALPA president Joe DePete sent letters to Unifor national president Jerry Dias and Cargojet chief executive Ajay Virmani on 7 May, criticising them for what he called "a management-led effort to weaken hard-fought rest and safety rules designed to keep the skies – and our pilots – safe."
DePete said Unifor and Cargojet were seeking exemptions from Canadian "flight, duty and rest requirements".
ALPA has in recent years advocated changing US rules that exempt US cargo pilots from some fatigue-related rules.
Unifor is doing no such thing, it says.
"To have the president of ALPA preach from Virginia to our pilots on the bargaining committee about fatigue rules and safety is condescending, arrogant and disrespectful," says Unifor's Dias. "Captain Joe DePete knows full well that 130 Canadian pilots stand to lose their jobs, and he is standing by to take their dues if operations move to the US where Congress has exempted cargo airline operators from some fatigue rules, giving them a competitive advantage over Canadian operators."
Cargojet pilots are "in the process of voting" on a tentative agreement with the carrier that has "no intention of allowing unsafe flight and duty time regulations".
ALPA's DePete wrote Dias and Virmani last week, saying the union was "dismayed" the Canadian union and Mississauga-based airline were seeking to loosen rest-time rules to save jobs.
"I am deeply troubled that Cargojet may be using the threat of layoffs and downgrades to convince pilots to support this plan that would weaken safety and put pilots at risk, this coming at a time when your airline has reported significant profits," DePete wrote to Cargojet's Virmani
"[Our] members have reported that these science-based rules, while not perfect, represent a significant improvement over the previous set of regulations in Canada. Any exemption, waiver, or weakening of them would undermine safety and be a slap in the face to those who fought so hard to have them enacted," his letter to Dias reads.
Unifor alleges that ALPA has a history of interference, citing involvement with Flair Airlines, based in Edmonton.
"ALPA is today raiding our pilots at Flair Air… This smells like a poorly disguised attempt to raid our pilots by an association that for decades had no interest in smaller operations such as Cargojet or Flair," says Unifor's Dias. "Now that the pandemic caused mass layoffs, ALPA is hitting new lows. It's clearly an association and not a union."