US regional carriers Republic Airways and Cape Air are being sued by their respective pilots' unions for offering contracts that include financial penalties of up to $250,000 if pilots leave before completing their contracts.
In a civil complaint filed on 9 June in the US District Court Southern District of Indiana, the Teamsters Local 357 and Local 1224 unions argue that the pilot contracts violate US labour laws, listing Republic Airways and Cape Air parent company Hyannis Air Service as defendants.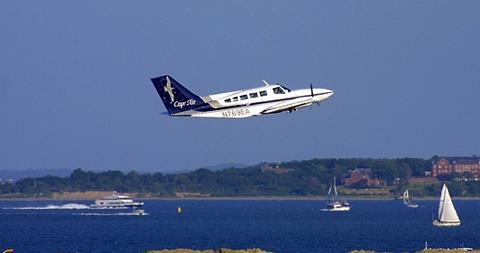 A Cape Air captain pathway agreement, presented as an exhibit in the lawsuit, contains a clause that prevents pilots from flying for "any airline that is in competition with Republic for a period of one year" if they quit or resign before completing three-year contracts. The agreement also requires pilots who fail to work the full three years to pay the company $250,000 "not as penalty but as liquidated damages" incurred from training costs.
"The lawsuit asserts the employment contracts are an attempt by the airlines to change pilots' working conditions unilaterally, in violation of federal labour law under the Railway Labor Act," says the Teamsters Local 357 union representing Republic pilots.
Specifically, the lawsuit says that the regional airlines are effectively avoiding collective bargaining negotiation and depriving pilots their right to union representation.
"That Republic and Hyannis Air are able to compel individual pilots to enter these oppressive employment agreements on pain of job loss simply illustrates the grossly disproportionate economic and bargaining power of carriers toward individual employees," the lawsuit states.
The Teamsters seek a judgement declaring the pilot employment agreements null and void, and an injunction prohibiting the airlines from "taking any action to enforce individual agreements". The Teamsters also request an order directing Republic and Cape Air to "permanently refrain from seeking to enter such agreements with any pilot in the future".
Republic declined to comment on the Teamsters' lawsuit, and Cape Air did not respond to FlightGlobal's requests for comment.
'CONSEQUENTIAL DAMAGES'
Indiana-headquartered Republic is one of the largest regional airlines in the USA, operating more than 200 Embraer E175s and E170s on behalf of major US carriers under the brand names American Eagle, Delta Connection and United Express.
Cape Air currently has 66 Cessna 402s and 30 twin piston-engine Tecnam P2012 Travellers in service, according to Cirium fleets data. Based in Hyannis, Massachusetts, the carrier flies passengers in the Northeast and Southeast USA, as well as Montana and the Caribbean.
The pilot-production strategies of the two airlines are intertwined. Republic owns the Leadership in Flight Training (LIFT) pilot training academy, which it touts as one of the largest academies of its kind in the USA. In July 2021, the LIFT academy bought a minority stake in Cape Air in a deal the airlines called "a strategic work force development relationship".
Under the Jump Start pilot-flow programme, new pilots commit to flying as a Cape Air captain for a minimum of 700h before transfering to Republic.
Pilots receive $2,500 signing bonus for starting with Cape Air, according to the captain pathway agreement cited in the lawsuit. Under the terms, pilots must commit to working as a captain at Republic for at least two years. The pathway programme also dangles a $100,000 bonus for making the upgrade.
"Republic has invested time, resources and money, as well provided confidential and trade secret information, in return for this three-year at-will commitment," the contract states. "Pilot understands that his or her failure to comply with this employment commitment… will impose consequential damages on Republic in excess of $1 million."
A separate pre-hire "career advancement agreement" for new first officers at Republic requires pilots pay the company between $25,000 and $100,000 if they leave the before flying five years as first officer for Republic, or at least two as captain.
The Teamsters Local 357 union did not respond to a question about whether the employment agreements have had a chilling effect on Republic's new pilot applications.
'BOGUS CONTRACTS'
The unusual terms of the agreements reflect the broader struggles of the US regional airline industry to attract and retain pilots. Hundreds of regional jets are parked across the USA, while air services to small and rural communities contract as mainline carriers poach pilots from regional counterparts.
In recent months, first officers declining to pursue captain upgrades has emerged as a new aspect of the pilot problems facing regional carriers.
Mesa Airlines chief executive Jonathan Ornstein said last month during the Phoenix-based regional carrier's second quarter earnings call that the "current industry bottleneck is ensuring an adequate number of qualified first officers upgrade to captain".
"Without captain upgrades, most airlines find themselves with an imbalance… and have paused hiring first officers," he added.
In a similar situation, Republic is not recruiting first officers "who do not intend to progress to the position of captain when they become eligible to upgrade", the carrier says in its pre-hire agreement for first officers. The company offers first officers a $60,000 bonus for upgrading to captain.
The Teamsters says such incentives are not enough to keep pilots from moving on to greater opportunities.
"If these companies are having a hard time recruiting pilots, then they should do what nearly every other airline has done in a competitive job market – increase wages and benefits," says Joe Muckle, president of Teamsters Local 1224, which represents Cape Air pilots. "Trying to retain professional pilots by handcuffing them with bogus contracts is illegal and bad business, which is why no other airline is doing this."
The Teamsters vowed to fight the pilot contracts offered by Republic and Cape Air "with the full force of our union".