United Airlines and its pilots have come to an agreement-in-principle (AIP) on a new contract.
The pilots, represented by Air Line Pilots Association, International (ALPA), will have a deal that "marks a significant milestone… and includes substantial improvements to compensation" as well as quality of life, job security, vacation time, sick leave and other benefits, the union said on 15 July.
Flight deck crew will receive a cumulative 34.5%-40.2% increase in pay rates over the life of the four-year agreement, as well as signing bonus pay retroactively to January 2020. The agreement will result in $10 billion over the life of the contract, the union adds.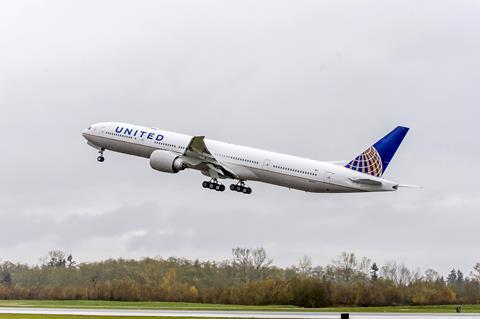 "This agreement in principle could not have happened without the steadfast resolve of the 16,000 United pilots," says Garth Thompson, chair of the United ALPA Master Executive Council (MEC). "The tireless dedication demonstrated by United pilots over the past several years ensured our solidarity which was instrumental in achieving this historic agreement."
The final language is currently being negotiated and once completed, the agreement will be put to the full pilot group for a vote.
The Chicago-based carrier says on 16 July that it is "pleased to have reached an agreement with ALPA".
"The four-year agreement, once ratified, will deliver a meaningful pay raise and quality of life improvements for our pilots while putting the airline on track to achieve the incredible potential of our United Next strategy," the airline adds.
United is one of the last major US airlines to come to a new deal with its pilots. In recent months, cockpit crew at other carriers, notably at Delta Air Lines, FedEx, Hawaiian Airlines, JetBlue Airways and Spirit Airlines in the USA, and WestJet in Canada - all represented by ALPA - have negotiated lucrative new contracts with their respective airlines.
American Airlines pilots, represented by the Allied Pilots Association (APA), also reached an "agreement-in-principle" with that carrier in May.
Southwest Airlines' pilots late last month requested to be released from mediation with that airline over a new contract, six weeks after pilots voted in favour of a strike. The Southwest Airlines Pilot Association (SWAPA) and the carrier have been in negotiations for a new deal for more than three years, and doing so under federal mediation since September 2022.
United Airlines reports second-quarter earnings on 19 July.