United Airlines is investing $15 million in carbon-capture technology firm Svante, which is researching how to convert carbon dioxide removed from the atmosphere into sustainable aviation fuel (SAF).
The Chicago-based carrier said on 29 March that the investment comes from United Airlines Ventures' $100 million sustainable flight fund – an investment vehicle designed to accelerate research into decarbonising air travel – and will support Svante's commercial manufacturing facility in Vancouver, British Columbia.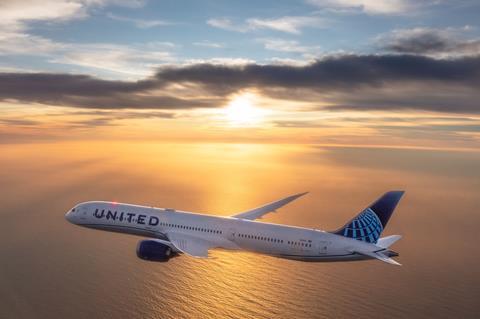 "Carbon capture technology has the potential to be a critical solution in the fight to stop climate change and has the added benefit of helping us scale the production of SAF," says Scott Kirby, United's chief executive. "And at United we are building on that approach by investing in both companies that can capture CO2 and others that can turn it into fuel."
"There's no question that this carbon utilisation is in its infancy today," Kirby continues, "but as a leader in sustainable flying we must help build the foundation to deploy this technology of the future as expediently as possible."
Svante's carbon-capture technology uses structured absorbent beds called filters to capture 95% of CO2 emissions from industrial sites, as well as existing carbon in the atmosphere. The company's website says the technology is "commercially available today".
"Once the CO2 is captured, it is concentrated and can be used in the creation of SAF or other products," Svante says. "It can also be safely transported and stored underground."
The company's manufacturing facility is eventually expected to produce enough filters to capture millions of tonnes of carbon annually across hundreds of large-scale carbon-capture facilities.
Svante is also working with New York-based carbon utilisation company Dimensional Energy, which has an agreement to provide at least 300 million gallons of SAF to United over the next 20 years.
"There is enough CO2 in the atmosphere and in industrial process emissions to provide all of the carbon necessary for the fuels and products people use every day now and into the future," says Jason Salfi, Dimensional Energy's chief executive. "Svante provides the first step toward a circular carbon economy."
United is on board with the broader US airline industry's goal of reaching zero greenhouse gas emissions by 2050, but aims to do so "without relying on traditional carbon offsets", the carrier says. "To date, United has invested in the future production of over three billion gallons of SAF – the most of any airline in the world."
Efforts are underway to ramp up production of SAF, which represents a small fraction of the jet fuel burned during airline operations today but is a major aspect of industry-wide decarbonisation strategies.
SAF currently can be combined with conventional petroleum-based jet fuels in blends of up to 50%, but the aviation industry is pursuing 100% SAF that can be used as a "drop-in" replacement for the most common jet fuels – Jet A and Jet A-1.
Sourced from corn, oil seeds, algae, fats, oils, greases and agricultural and forestry residues, SAF is produced via seven different pathways, with more expected to be approved in the near future.
Land-use issues and limited availability of feedstock could prove to be major obstacles to the wider adoption of SAF, however.
Synthetic and sustainably derived jet fuel is also expensive, prompting several airlines to lean on their customers to help cover the cost. United, for example, gives customers the opportunity to contribute to its sustainable flight fund.
"SAF is the most-scalable solution to decarbonise air travel," the airline says.
In November, United Airlines Ventures disclosed an investment of up to $37.4 million in Next Renewable Fuels to launch a biofuel refinery in Oregon that could produce "up to 50,000 barrels" of SAF daily. The facility is expected to launch production in 2026.