United Airlines lost $646 million in the fourth quarter of 2021 as the Omicron variant of Covid-19 impacted air travel and delayed the airline's anticipated recovery.
For the full-year 2021, the airline lost $2 billion, United says on 19 January. That compares to a $7.1 billion loss in 2020 and a $3 billion profit in 2019.
The Chicago-based carrier now expects its full-year 2022 capacity will be less than in pre-pandemic 2019, reversing an earlier expectation to increase 2022 capacity 5% from 2019 levels.
The fourth-quarter 2021 loss compares to a $1.9 billion loss in the same three months in 2020 and a $641 million profit in the fourth-quarter of 2019.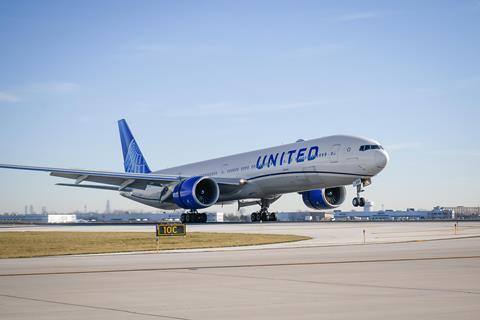 Revenue for the final quarter of the year came in at $8.2 billion. That is more than double the $3.4 billion posted during the same three months in 2020 but 25% less than the $10.9 billion reported in the fourth quarter of 2019.
For the full year 2021, revenue totalled $24.6 billion, down 43% from 2019.
"While Omicron is impacting near-term demand, we remain optimistic about the spring and excited about the summer and beyond," the airline's chief executive Scott Kirby says. "We look forward to beginning to return the Pratt & Whitney 777s to service this quarter and getting the full airline back to normal utilisation as we ramp up along with demand this year."
The carrier reduced its schedule for the beginning of 2022, but says it will "nimbly ramp up capacity" by bringing 52 Pratt & Whitney-powered Boeing 777s back into the active fleet. Those aircraft had been idle for most of 2021.
They were pulled after one example suffered a blade-out engine failure on 20 February 2021. That aircraft lost its right PW4000 just minutes after taking off from Denver International airport, raining debris across several neighbourhoods. Two fan blades had cracked due to metal fatigue, and the engine's inlet and cowling separated from the powerplant.
There were no injuries. It was the third such PW4000 incident in less than three years.
Even taking Omicron into account, United remains optimistic about 2022.
"Despite near-term volatility, bookings for spring travel and beyond remain strong, which is why the Omicron spike has not altered the airline's confidence" in its targets, the company adds.
United expects its first-quarter 2022 capacity will be 16-18% less than in the first quarter of pre-pandemic 2019. Operating revenue will be 20-25% less than during that quarter two years ago, it anticipates.
United will reveal more information about its quarterly results and 2022 outlook during a webcast on 20 January.