United Airlines has appealed to advisers of US President-elect Joe Biden to set up a task force that would re-establish air travel as the global coronavirus pandemic leaves carriers to flounder amid continued depressed demand.
The 29 December memo obtained by FlightGlobal calls on the Biden-Harris transition team to bring together experts from government, the travel industry, unions and public health to work on how to safely restore international and domestic air travel in the wake of the global crisis, and thus help kick-start a recovery in the US airline industry as well as the wider economy.
Draconian measures such as 14-day quarantines and outright entry bans, the airline says, must be eliminated in favor of other tactics to mitigate the spread of the highly-contagious virus.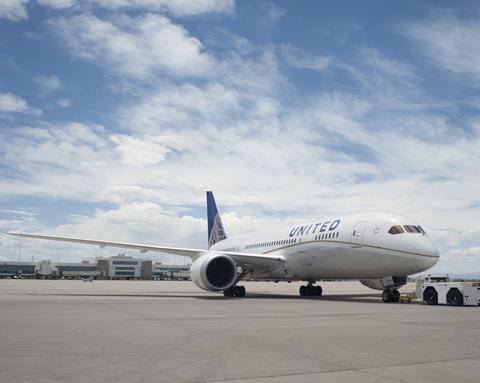 Restoring air travel networks and creating "sustainable alternatives" to these restrictions that "will bring clear scientific, economic, and political benefits" must be a top priority for the presidential transition team, United writes.
"Governments at every level, from municipalities to states and countries, have deployed a byzantine patchwork of travel bans or quarantine requirements that have effectively halted most non-essential air travel," the memo reads. "Uncoordinated and fast-changing quarantines and travel restrictions are an enormous impediment to economic recovery."
The Chicago-based carrier says that during the summer months domestic travel declined 73% and international travel was down 91% from the same period a year ago.
"By advancing safe alternatives to travel restrictions, the White House Task Force would help restore US global leadership in public health while re-establishing critical linkages between economies, communities, businesses, and families around the globe," United says.
Even though there may be pent up demand following months of shelter-at-home restrictions, potential customers are often still reluctant to book trips for fear that their plans may be derailed close to their travel date due to spiking case counts that then lead to individual jurisdictions imposing new and sometimes confusing rules.
The US Transportation Security Administration (TSA), responsible for security checkpoints at almost 450 airports across the nation, reported screening more than one million passengers per day on seven of the past 11 days around the Christmas holiday, the highest traveller counts since the beginning of the pandemic. But that is still about just 40% of the number the organization saw pass through its checkpoints during the same period a year ago.
Airlines have said that they do not expect a meaningful and sustainable rebound in air travel until widespread access to a safe and effective vaccine is ensured, and large swaths of the population become immunized. But that could take until well into next year, some experts say.
Meantime, some borders remain closed to non-citizens or permanent residents. The longest peaceful frontier in the world, between Canada and the United States, has been effectively sealed since March. Its opening has been delayed numerous times, and is now scheduled for 21 January.
The US government also continues to uphold entry restrictions for travellers who are not US citizens or permanent residents, with few exceptions. That order is now also in its 10th month.
Some airlines, including United, recently introduced pre-departure testing programmes for customers on specific flights to destinations such as Hawaii and the United Kingdom. The carrier says that testing will remain an integral part of a recovery strategy "while avoiding the disruptiveness of blanket quarantine measures". It is also offering voluntary contact tracing to passengers on all flights.
US President-elect Joe Biden and vice-president-elect Kamala Harris will take office on 20 January.