United Airlines will introduce coronavirus testing for passengers in an effort to get customers back in aircraft as the global coronavirus crisis drags on.
The Chicago-based airline says on 24 September that it will be offering the rapid testing on flights between its west-coast hub San Francisco and the Hawaiian islands, a popular vacation destination for US travellers.
The move comes two days after IATA called for a systematic pre-flight coronavirus testing regime for all international passengers.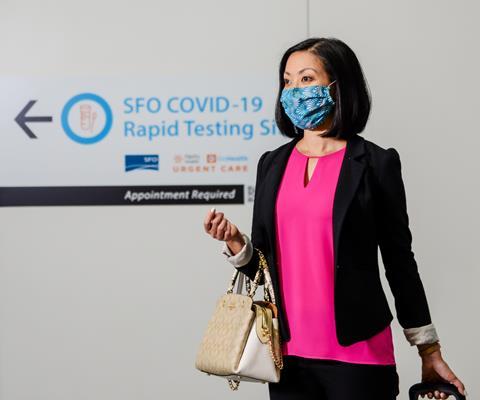 The carrier says it will be using the Abbott ID NOW Covid-19 test which promises results in 15 minutes, and is available to customers departing San Francisco on the same day. There is also an option available for those who want to initiate the testing earlier and mail in their samples. United says it expects the test to cost between $80 and $250, which will be carried by the customer.
Last week, Hawaii lifted its blanket quarantine requirement for inbound passengers on 15 October as long as they can present a negative test that is not older than 72 hours prior to their arrival. This comes after the island archipelago, which is 2,500nm (4,500km) southwest of the US mainland, had effectively sealed itself off for non-essential travel since March to stop the spread of the highly-contagious virus.
The airline says that it "worked closely with Hawaii officials to ensure that any United customer – both visitors and Hawaiian residents returning home – who tests negative on either test would not be subjected to the state's current 14-day quarantine requirement".
United currently operates daily flights between San Francisco and Honolulu, Maui and Kona, and will add further flights on 15 October.
Airlines have complained that a patchwork of quarantine requirements around the USA as well as in other countries is preventing the aviation industry from any meaningful recovery. Customers are unsure what rules apply at their potential destinations, nor what they will have to deal with when they return home.
Currently, several regions in the US – such as the area around New York City and the region around Washington DC – have imposed mandatory isolation orders for inbound passengers from up to 30 other states. The problem with quarantines, however, is making sure those passengers follow the rules to self-isolate. So numerous airlines are considering a widespread testing solution.
"The challenge is compliance with quarantine," JetBlue chief operating officer Joanna Geraghty tells a webinar on 24 September. "A testing exemption is as good if not better than a quarantine at this point but we absolutely have to find a testing solution that is rapid."
"We have got to get to that point because its difficult to see the economy reopening without widespread testing available," she adds.
However any such testing regime will have to be coordinated across different jurisdictions, trade group IATA said on 22 September. Governments would need to agree to common standards on testing, so that there would be "mutual recognition" of the results, IATA director general Alexandre de Juniac said.
Crucially, de Juniac added, such a scheme would also "provide passengers with the certainty that they will be able to travel without worrying about last-minute changes that could spoil their plans", while giving them confidence that fellow travellers are Covid-free.