United Airlines has taken a stake in advanced propulsion developer ZeroAvia, in a an agreement that could see the carrier order up to 100 hydrogen-electric engines that could be retrofitted onto United Express regional aircraft by 2028, pending certification.
Revealing the pact on 13 December, the Chicago-headquartered airline said the ZA2000-RJ engines would be fitted onto its 50-seat Bombardier CRJ550 jets.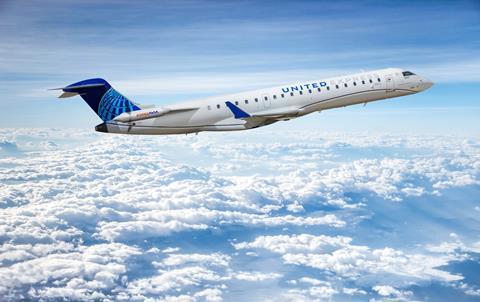 "Hydrogen-electric engines are one of the most promising paths to zero-emission air travel for smaller aircraft, and this investment will keep United out in front on this important emerging technology," says chief executive Scott Kirby.
"United continues to look for opportunities to not only advance our own sustainability initiatives but also identify and help technologies and solutions that the entire industry can adopt."
United says that it is looking to take 50 engines initially, with an option for 50 more – enough to operate 50 twin-engined aircraft by the end of the decade.
Previous initiatives by ZeroAvia have focussed on the conversion of turboprop-powered aircraft; while the fuel source and powertrain is different, both ultimately deliver that power by turning a propeller. The CRJ550, meanwhile, uses twin GE Aviation CF34 jet engines. No detail on the engineering required for that conversion was immediately available.
ZeroAvia in October signed a pact with MHIRJ Aviation – which acquired the CRJ programme from Bombardier – to collaborate on the design of a hydrogen-electric propulsion system for regional jets.
The deal with United comes two months after US airline peer Alaska Airlines announced a cooperation with ZeroAvia on a project to convert a De Havilland DHC-8-400 turboprop operated by regional affiliate Horizon Air to be powered by the same ZA2000 engine.
At the time, Alaska Air Group also placed options for up to 50 kits to convert regional aircraft to hydrogen-electric power, using the ZeroAvia system.
ZeroAvia's development plan envisions a hydrogen-electric powertrain capable of flying a 76-seat aircraft across a range of 500nm (926km).
The latest $35 million funding round, to which United has contributed, will help ZeroAvia push into that larger 40-80-seat segment; turboprops are targeted by 2026 and regional jets by 2028, the developer says. To date, it has raised $115 million.
ZeroAvia is preparing for ground- and flight-tests of its smaller ZA600 engine in a 19-seat Dornier 228 "in the coming weeks". It aims to bring that powertrain into commercial service by 2024.
In September 2020, ZeroAvia operated what it called the "world first hydrogen fuel cell-powered flight of a commercial-grade aircraft". The company had placed its propulsion system in a six-seat Piper Malibu M350 aircraft, which completed taxi, take-off, a full pattern circuit, and landing.
That aircraft was heavily damaged in a crash in May this year. It was not immediately clear whether the experimental powerplant and related systems were linked to the accident.