United Airlines has launched "Eco-Skies Alliance", a programme through which it will allow customers and corporate partners to invest in sustainable aviation fuels (SAF).
The Chicago-based carrier says on 13 April that 11 corporate partners support the initiative, which is central to United's quest to become carbon neutral by 2050. Individual travellers who book United flights can also contribute by paying what the airline calls a "green premium".
That premium – an voluntary contribution – will go towards "SAF purchase or for use on initiatives United believes will help decarbonise aviation", chief executive Scott Kirby says.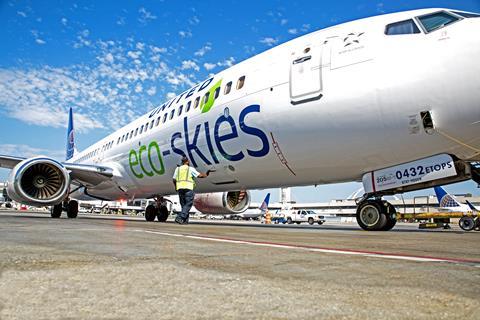 "Instead of just directing their funds towards purchasing a number of gallons to offset their own flying… [United will] allow them to direct that money towards our research and development, investing in start-up companies that are working on innovative new technology," he says. "There's a long way to go to make sustainable aviation fuel viable, economically possible and scalable to the point where it can make a real difference."
United will also help customers lobby state and federal officials on the topic of climate change policy.
"Starting immediately, United will help individuals connect with elected representatives to advocate for policies that would make air travel more sustainable for the long term. United will be the first airline in the world to connect customers directly with policy makers to voice the support that is needed to advance and accelerate permanent, scalable solutions that hold the potential to decarbonise the air transportation industry – and not just offset emissions," the airline says.
"We know there is a growing demand from a wide range of our customers, including corporations, cargo shippers and individuals who share the same concern we do – that climate change is the most pressing issue of our generation," Kirby adds.
CORPORATE SUPPORT
Companies that have joined United's Eco-Skies Alliance include software firm Autodesk, Boston Consulting Group, supply chain company CEVA Logistics, consultancy Deloitte, shipping companies DHL and DSV, technology company HP, Nike, software firm Palantir, Siemens and Takeda Pharmaceuticals.
Together, those partners will purchase of 12.9 million litres (3.4 million USgal) of SAF this year.
"This is enough SAF to eliminate approximately 31,000 metric tons of greenhouse gas emissions, or enough to fly passengers over 220 million miles," Kirby says.
Still, that amounts to just 1% of the airline's total jet fuel use in a year.
"Our goal is to add more companies to the Eco-Skies Alliance programme, purchase more SAF and work across industries to find other innovative paths towards decarbonisation," he adds.
SAF, which is made from renewable sources such as forest floor debris, old clothes, cooking oil or municipal garbage, can reduce life-cycle carbon dioxide (CO2) emissions by up to 80% compared to conventional jet fuel, according to IATA. More than 40 carriers worldwide have begun using this type of fuel to help shrink their carbon footprint.
But broader use of sustainable aviation fuels remains hindered by limited supply and high cost – the fuels are two to four times more expensive than traditional jet fuel, United says.
United has in recent months thrown its support behind SAF, which it describes as crucial to actually reducing carbon output. Kirby has been critical of carbon offsets – another tool used by airlines and other companies to satisfy climate goals. He has described carbon offsets as having little real-world impact and has indicated United will likely phase out its carbon-offset programme.
"Sustainable aviation fuel, and paying that green premium associated with it, as well as investing in the next generation of decarbonisation technologies, is really a path forward that our customers can take, rather than paying for an offset that just allows us to continue status quo behaviours and technologies within aviation," says Lauren Riley, United's managing director for global environmental affairs and sustainability.
In the past months, United has made headlines with several sustainability initiatives to achieve its carbon-neutral goal. In December the carrier announced plans for a major investment in a direct air capture and sequestration initiative.
Then, in February, it committed to purchase 200 in-development electric vertical take-off and landing (eVTOL) aircraft from Palo Alto-based air taxi developer Archer Aviation.
Late last month, US trade organisation Airlines for America (A4A), which represents 10 US passenger and cargo airlines, said US carriers will work with government and other stakeholders to increase SAF production, invest in electrification, revamp air traffic control, develop new airframe and propulsion technologies and support international agreements with the goal of achieving net-zero emissions by 2050.
A4A's commitments — which it hopes to see reflected in upcoming infrastructure legislation — include a ramp-up of SAF production to make 7.6 billion litres available to US carriers by 2030. That would require a massive 84% average increase in production for each of the next 10 years.