United Airlines lost $1.9 billion in the fourth quarter of 2020 but is preparing for a "transition year", following the devastating effects of the global coronavirus pandemic on the airline's business and the industry as a whole.
The Chicago-based carrier says on 20 January that its fourth-quarter revenue was $3.4 billion, down 69% from $10.9 billion in the same period in 2019. The airline generated $15.3 billion in revenue during the full year of 2020, down 64.5% from $43.3 billion in 2019.
United's total 2020 loss came in at $7.1 billion.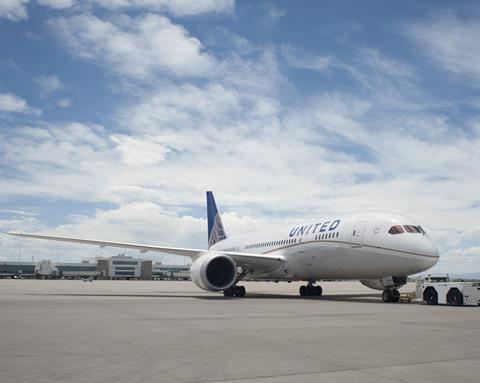 "Aggressively managing the challenges of 2020 depended on our innovation and fast-paced decision making. But, the truth is that Covid-19 has changed United Airlines forever," says United's chief executive Scott Kirby.
"Having stabilised its financial foundation, the company expects 2021 to be a transition year that's focused on preparing for a recovery," the airline adds.
United ended the year with $19.7 billion in liquidity, and the carrier says it was able to reduce cash burn to $19 million daily during the final quarter of the year. That's down from $24 million daily in the third quarter.
But the airline says it is bracing for more of the same during the first quarter of 2021.
"Based on current trends, the company expects first quarter 2021 total operating revenue to be down 65% to 70% versus the first quarter 2019," United says. "Accelerated distribution of the Covid-19 vaccine may lead to faster improvement, however the company is not including this potential improvement in its first quarter 2021 revenue outlook."
United' capacity during the first three months of the year will still be down "at least" 51% from 2019 levels, the airline adds.
GOVERNMENT AID
The carrier also says on 20 January that it will take $2.6 billion in additional payroll assistance support, after the US government recently extended the programme for four months. That comes atop $5 billion the carrier took in March through the first round of funding under the CARES Act.
US passenger airlines are slated to receive an additional $15 billion in the second package, coming atop the $58 billion set aside for the industry earlier in the year.
When the first batch of government financial aid ran out at the beginning of October, United furloughed 13,000 employees. The new government aid deal, which became law in December, required United to hire them back as of 1 December and prohibits layoffs until the end of March.
United Airlines will present more details about its fourth quarter 2020 results during a conference call on 21 January.
Article updated to show United capacity for first three months will be down 51% on corresponding figure in 2019