United Airlines has reported a preliminary pre-tax loss of $2.1 billion for the first quarter of 2020 and a $1 billion pre-tax loss on an adjusted basis.
Total revenue in the first quarter declined by 17% compared to the first quarter of 2019, the Chicago-based airline stated in a 20 April US Securities and Exchange Commission filing.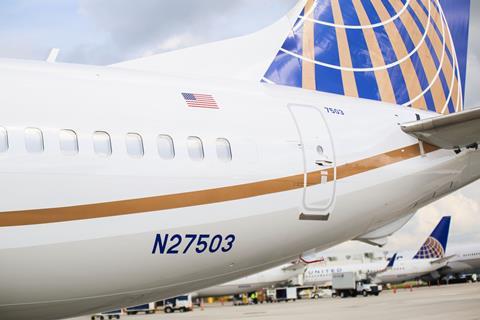 United also said in the SEC filing that on 17 April it applied for a CARES Act loan. The carrier expects to be able to borrow up to approximately $4.5 billion from the US treasury department for a term of up to five years.
The CARES Act authorises the treasury department to make available to passenger air carriers $25 billion in loans, loan guarantees and other investments to provide liquidity that would assist them in the management of losses incurred as a result of the coronavirus pandemic.
United stated on 20 April that if it ultimately borrows $4.5 billion through the CARES Act loan programme it would "issue warrants to purchase approximately 14.2 million shares of UAL common stock at a strike price of $31.50 per share (which was the closing price of UAL's common stock on the Nasdaq stock market on April 9, 2020), on the same terms as the warrants expected to be issued under the Payroll Support Program".
United announced on 15 April that it would receive $5 billion through the CARES Act's Payroll Support Program. Of that $5 billion, $3.5 billion will be outright grants and an additional $1.5 billion will be in low-interest loans. United expects to issue to the federal government warrants to purchase approximately 4.6 million shares of common stock through the Payroll Support Program.
As of 16 April, United's short-term liquidity stands at around $6.3 billion, including $2 billion under its undrawn revolving credit facility. The company also borrowed in March and April $2.75 billion under new secured term loan facilities.
United has not yet scheduled a first-quarter earnings call for investors.