Major US airlines are suffering operational meltdowns in New York City, cancelling hundreds of flights in recent days and prompting a spat between United Airlines and the Federal Aviation Administration.
Videos of stranded, livid, cursing airline customers have flooded social media sites as airlines have nixed one-third of flights at New York-area airports, which are some of the nation's busiest.
The troubles mark another episode in a post-pandemic air-travel era defined largely by airlines' inability to fly their schedules. Earlier this year, carriers had said they were trimming their New York schedules in response to warnings from the FAA. But data shows airlines made only minor tweaks.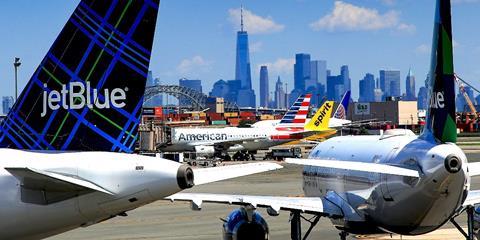 The scope of recent issues is immense.
On 26 June, carriers cancelled 477 flights to and from New York LaGuardia airport – about 40% of the airport's scheduled flights, according to flight tracking website FlightAware.com.
Airlines scrapped 539 flights (35%) that day at Newark Liberty International airport, where United Airlines maintains a hub, and 238 flights (15%) at New York's John F Kennedy International, where JetBlue Airways and Delta Air Lines have sizeable presences.
United chief executive Scott Kirby has placed blame squarely on the FAA, according to a letter from Kirby posted on social media by other news outlets.
"The FAA frankly failed us this weekend," says the letter, dated 26 June and from Kirby to employees. "The weather we saw in [Newark] is something that the FAA has historically been able to manage without a severe impact on our operations and customers".
"This past Saturday… was different," the letter adds. The FAA "reduced the arrival rates by 40% and the departure rates by 75%" – "almost certainly a reflection of understaffing/lower experience at the FAA".
United did not respond to a request for comment from FlightGlobal.
The FAA has fired back, saying, "We will always collaborate with anyone seriously willing to join us to solve a problem".
The agency does not elaborate nor respond to a request for more information.
Meanwhile, disruptions continue.
On 27 June, as of 13:00 local time, airlines had already cancelled 363 flights to Newark (27% of the total), 239 flights to LaGuardia (21%), 91 flights to Kennedy (6%) and 112 flights to Boston Logan (7%), FlightAware data shows.
Many carriers have been affected. On 26 June, regional airlines Republic Airways and Endeavor Air, which operate for major carriers, each cancelled about one-third of their flights, while Delta nixed 8% of its operation.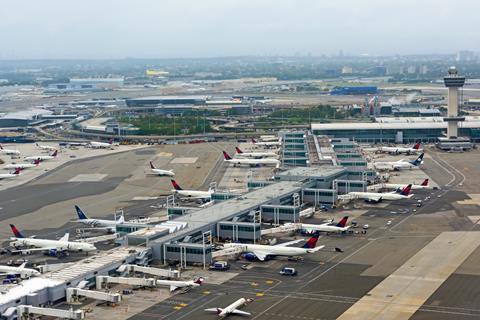 But United's operation has been most impacted. The airline cancelled 583 flights on 26 June (19% of its operation), and has already scrubbed 380 flights (13% of its total) on 27 June, the website shows.
United's troubles come days after the airline on 22 June issued a statement seemingly at odds with its operational reality.
In that statement, United insisted it is prepared for the busy upcoming US Independence Day holiday travel period, praising its on-time departure rate and bragging its network "is built to run well and recovery fast".
Other carriers have also predicted improved operations this summer. In April, Delta CEO Ed Bastian said he is "very confident" the airline will have a "very strong operational summer".
"We are very prepared for this summer," JetBlue head of revenue and planning said in April.
US airlines have suffered numerous operational upheavals in the last two years, including a major Southwest Airlines meltdown in December 2022 caused by a computer problem.
The issues have come amid a shortage of pilots and as airlines have been adding new flying after having slashed their operations during the Covid-19 pandemic.
The US Department of Transportation (DOT) has come down hard on carriers, imploring them to improve reliability and to assist stranded passengers.
But the DOT, too, has conceded operational troubles.
In March, the FAA (which sits under the DOT) said it would ease rules requiring airlines to use take-off and landing slots at New York, citing "post-pandemic effects on air traffic controller staffing". The FAA said it was short of controllers, particularly in New York.
Airlines responded by saying they were cutting flights at New York to head off trouble.
But data shows those cuts have been minor.
Carriers have 37,553 domestic US flights scheduled out of New York's three major airports in July, down only 3% from July 2022, Cirium data shows. August flights are down less than 1% year-on-year.