United Airlines intends today to operate a demonstration flight – with non-paying passengers – using an aircraft powered partly with 100% sustainable aviation fuel (SAF).
The Chicago-based airline is describing the flight as a means to highlight that "there are no operational differences" between SAF and traditional fossil-based jet fuel.
The flight will not be a regular-scheduled revenue flight but rather a demonstration flight carrying more than 100 "invited guests", United says. Passengers will include United chief executive Scott Kirby.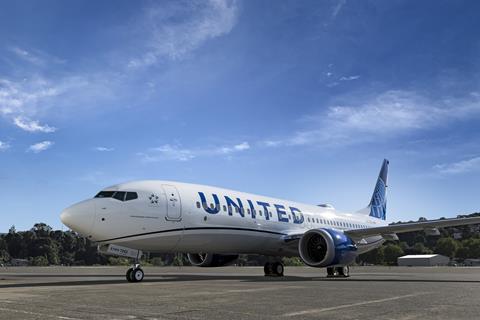 One of the Max 8's Leap engines will burn 100% SAF. United received "special permission from the Federal Aviation Administration to operate on 100% SAF" because aircraft engines are currently approved to burn fuel mixtures containing no more than 50% SAF.
The FAA says United will operate the flight under Part 91 rules, which apply to non-commercial operations. "The right wing tank and engine will use sustainable aviation fuel. The left wing tank and engine will be fuelled with standard Jet A aviation fuel," the agency says. "The FAA has to approve any non-FAA-certified fuel used in flight."
United pitches its demonstration flight as setting "the stage for more-scalable uses of SAF by all airlines in the future", marking a "turning point in the industry's effort to combat climate change".
SAF is fuel produced from "renewable biomass and waste resources", such as grain, seeds, algae, agricultural and forestry residue and municipal solid waste, according to the US Department of Energy. Widespread SAF usage has been hampered by limited production and steep costs – Emirates Airline president Tim Clark recently said SAF costs two to three times more than conventional jet fuel.
SAF BENEFITS STILL UNCERTAIN
The aviation industry has been promoting SAF as key to reaching its goal of achieving "net-zero" carbon emissions by 2050. Because burning SAF does not release carbon previously stored underground, the industry touts the fuel as being 80% cleaner – based on greenhouse gas emissions – than conventional fuel.
But a recent US government report cites "uncertainty" about actual carbon-reduction benefits of burning SAF, compared to conventional fuel, and says no "mandatory government standards" for evaluating such benefits exist.
Pending further evidence, the US report, released on 9 November, estimates SAFs are at least 50% more carbon-clean than traditional fuel. It says efforts to quantify SAF emissions are underway.
Other reports have raised concern about land-use issues arising from converting land used for growing food crops to growing SAF ingredients, called "feedstock". A March report from the International Council on Clean Transportation concluded that 5.5% of Europe's projected aviation fuel requirement in 2030 can come from SAF, due to limited feedstock.
The US government has committed to SAF accounting for 100% of aviation's fuel burn by 2050.
CEO Scott Kirby has said airlines will need to pursue other technologies to achieve "net zero", including carbon capture and sequestration, which means removing carbon from the air and storing it underground. In 2020, United said it will invest in carbon-capture technology.