United Airlines says that 593 of its 67,000 US-based employees have not complied with the company's Covid-19 vaccination requirement and will begin the process of separation from the company.
The Chicago-based carrier adds on 28 September that "more than 99%" of its employees who had not applied for a medical or religious exemption to the jabs have complied with the policy and uploaded their vaccination data to the company's systems.
"This is a historic achievement for our airline and our employees as well as for the customers and communities we serve," chief executive Scott Kirby and airline president Brett Hart write in a letter to employees that was distributed earlier in the day.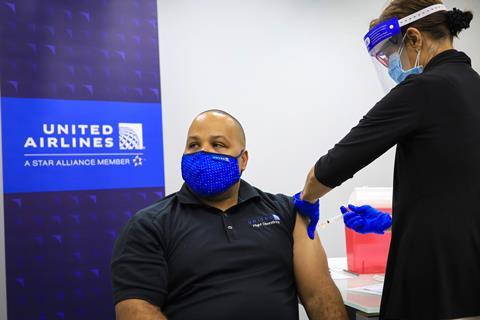 "Our rationale for requiring the vaccine for all United's US-based employees was simple – to keep our people safe – and the truth is this: everyone is safer when everyone is vaccinated, and vaccine requirements work," they add.
"Less than 1%" of employees chose not to get vaccinated, Hart and Kirby write. As a result, these employees will be leaving the company.
"This was an incredibly difficult decision but keeping our team safe has always been our first priority," they write. "The pandemic is now killing more than 2,000 people per day - a 65% increase in just the past 30 days – and the most effective way to keep our people safe, is to make sure they're vaccinated."
United says that the unvaccinated individuals were from all work groups and did not specify which locations, if any, were most affected. The carrier does not expect any negative impact on its business as a result.
Less than 3% of employees, or about 2,000 of the airline's workers, have applied for medical or religious exemptions to the vaccines. Staff with these kinds of exemptions will be required to take unpaid personal leave from 15 October. That deadline was pushed back from 2 October, pending litigation brought by several workers who had applied for these kinds of exemptions.
United's vaccination policy has rankled some staff, with one union recently criticising the mandate and describing the accommodation policy as wholly inadequate.
Under the policy, workers had until 27 September to prove that they received at least one vaccine dose.
United became the first US airline to require employees be vaccinated when it rolled out the policy in early August. The airline set the deadline five weeks after the US Food and Drug Administration's first approval of a Covid-19 vaccine, which came on 23 August.
Meantime, American Airlines and Southwest Airlines, both headquartered in Texas, have not introduced vaccine mandates for their employees, Some pilots are reportedly seeking an exemption from the US government's requirement that all federal contractors and companies with more than 100 employees require vaccination or face a fine.
Atlanta-based Delta Air Lines has imposed a $200 monthly surcharge for those unvaccinated workers who are on the company's health plan.