United Airlines has unveiled an effort to become carbon neutral by 2050 through investments in a process that strips CO2 from air and deposits it underground.
Chicago-based United will initially make a "multi-million investment" in that process, called "direct air capture and sequestration".
The investment will go to a company called 1PointFive, which is jointly owned by a subsidiary of Occidental Petroleum and private equity firm Rusheen Capital Management.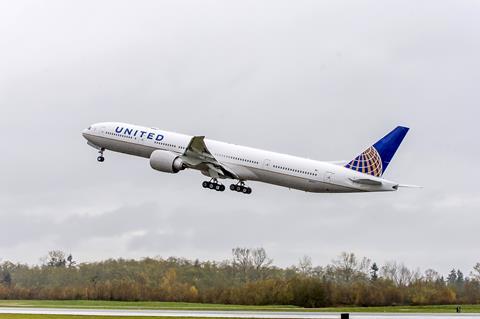 The funds will help 1PointFive "build the world's largest direct-air capture and sequestration plant", says Kirby. "We are committed to be 100% green by 2050."
The facility will be in the USA and will use direct air capture technology licensed from Canadian company Carbon Engineering.
Carbon Engineering has also been working with jet developer Aerion Supersonic to develop synthetic fuel from CO2 derived via direct air capture.
"The only way we can truly make a dent in carbon… is through direct-air capture and sequestration," Kirby says. "It is the only solution that is real, permanent and scalable."
The global airline sector faces the looming challenge of meeting an aggressive industry goal set in 2009 by IATA: to reduce carbon output by 2050 to half of 2005 levels.
To get there, manufacturers have been developing clean-energy technologies like electric and hybrid-electric propulsion systems, and working to advance use of hydrogen fuel.
But in hushed tones, skeptics have suggested those technologies simply cannot advance fast enough to meet the 2050 goal, and that carbon-offset schemes and biofuels cannot make up the difference.
They have cited hydrogen's infrastructure challenges and the energy-density shortcomings of batteries.
Kirby says "traditional" carbon-offset programmes and carbon-credit schemes "simply can't come close to offsetting" the industry's carbon output.
Electric systems might work for smaller aircraft, but the "physics… seem challenging for large and long-haul aircraft", he says.
Kirby declines to estimate how much money United might ultimately need to invest to reach its goal of offsetting all its emissions via carbon capture and sequestration.
He does not say how many capture-and-sequestration plants might be required to offset all United's emissions.
But the first project will get United "close to double-digit" offsets, he says.
"Our real goal is far, far larger," Kirby adds. "[We] hope that we can change the conversation globally. We hope [we are] helping to get the ball rolling."
Carbon capture often involves forcing air over a chemical such as hydroxide, which removes CO2. The CO2 can then be stored "permanently" underground or used to produce synthetic fuels, according to an April Congressional Research Service report.
Other aerospace companies such as supersonic jet maker Aerion have promoted direct air capture. Aerion's in-development AS2 business jet will be designed to burn synthetic fuel engineered using carbon capture, it has said.
IEA – the International Energy Agency – says direct-air capture is "currently expensive", requiring relatively "higher energy needs" than other CO2 capture technologies.
But, the technology will be critical, it adds.
"Carbon removal is expected to play a key role in the transition to a net-zero energy system, in which the amount of CO2 released into the atmosphere is equivalent to the amount being removed," IEA's website says.