United Airlines is the first US passenger air carrier to require all US-based employees to be vaccinated against Covid-19.
In a note to employees dated 6 August, the Chicago-based carrier cites "incredibly compelling" statistics on vaccine efficacy and a motivation to keep customers and employees safe.
The airline says the requirement will go into effect after the US Food and Drug Administration (FDA) grants the vaccines from Moderna, Pfizer and Johnson & Johnson full approval, or 25 October, whichever comes first. Currently, the vaccines are being administered under an emergency-use authorisation.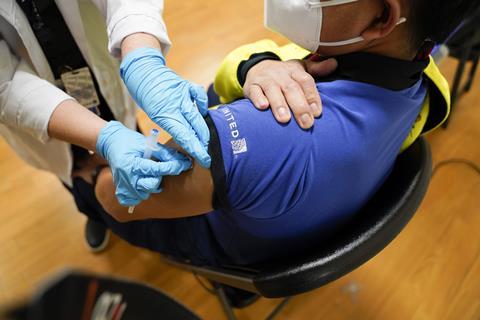 "All US-based United employees will be required to upload a vaccine card showing you have received two doses of the Pfizer or Moderna vaccine (or one dose of the J&J vaccine) five weeks after the FDA has announced it has fully approved a Covid-19 vaccine or five weeks after September 20th, whichever comes first," reads the letter from chief executive Scott Kirby and president Brett Hart.
"So, the latest potential deadline for meeting this requirement is October 25th. However, according to media reports, the FDA is likely to announce its full approval for the vaccine early next month, so the earlier timeline is more likely," they say.
Employees – with the exception of pilots, flight attendants and executive managers - who upload the document to the airline's internal system prior to 20 September will be rewarded with an extra day's pay, the carrier says. Most in-flight crew have already received union-negotiated compensation for uploading their vaccine data, and the entire executive team has already complied with the requirement, the letter adds.
United maintains that the vaccine is the best way of protecting employees as well as guests, and an unvaccinated person is 50 times more likely to be hospitalised for Covid-19, and 300 times more likely to die than a vaccinated person.
"Over the last 16 months, Scott has sent dozens of condolences letters to the family members of United employees who have died from Covid-19," they write. "We're determined to do everything we can to try to keep another United family from receiving that letter."
In May, United competitor Delta Air Lines said it would require the vaccine for all new hires, but "will not be putting in place a company-wide mandate to require current employees to be vaccinated".
United's move comes after numerous health care institutions, universities and tech firms including Google, Facebook and Microsoft have said they will require vaccines for employees.
The US Centers for Disease Control and Prevention (CDC), the public health authority, says on 6 August that almost 166 million people or 50% of the population have already been fully-immunized. 58% of the population has received at least one dose of the vaccine.
Concerns regarding the so-called "delta variant", a mutation of the original Covid-19 virus, have prompted some jurisdictions to re-instate face-mask mandates, in order to slow the spread of the highly-contagious virus.
Airlines and the federal government require masks while enroute through airports and on aircraft. That mandate is set to expire on 13 September but aviation worker unions are urging the government to extend it.