United Airlines has put 14,000 employees on notice that their jobs are once again in danger when the second round of US government financial aid set aside for airline payroll support expires on 31 March.
The Chicago-based carrier says in an internal memo on 29 January that it will be shedding the positions if the US government does not approve further coronavirus relief measures for the airline industry, and passenger demand does not improve markedly in the coming weeks.
It has sent the so-called Worker Adjustment and Retraining Notification (WARN) letters to many of the same employees it had furloughed last year when the first round of aid ran out. The notice is a federally mandated requirement that requires employers to inform workers 60 days before a potential mass layoff event.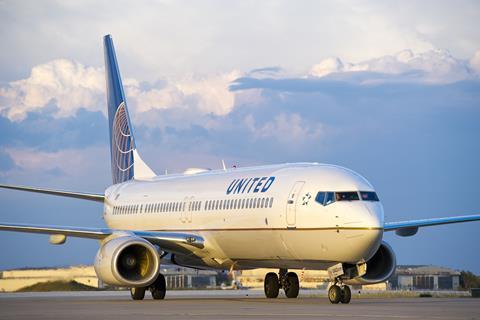 "Despite ongoing efforts to distribute vaccines, customer demand has not changed much since we recalled…employees," the company writes in a note to its workers. "Receiving a WARN notice does not automatically mean you will be on furlough status after April 1 - but it is a sign that we have a reasonable expectation that your job may be affected."
Meantime, Fort Worth-based American Airlines says it has not sent out any of these notices as of 29 January.
At the end of September, the two airlines together involuntarily furloughed about 32,000 employees after a first round of $25 billion in government payroll support expired. Initially, United had warned 36,000 employees of impending job cuts, but was able to limit its involuntary furloughs to 13,000 at that time. American furloughed 19,000 employees at the end of September.
The airlines hired the workers back when lawmakers approved a second package, worth another $15 billion, at the end of December. According to the conditions of the grants set aside in the second programme, airlines must keep the employees on staff until the end of March.
Unlike its peers, the third major US carrier, Atlanta-headquartered Delta Air Lines, did not furlough any employees in September, and reached a deal with its pilots in November to protect them from job cuts as well.
Industry observers say it is unlikely that the global coronavirus pandemic - and the ongoing depression in demand - will be over by the end of the first quarter. New travel restrictions, including a mandatory testing requirement for all inbound international arrivals and discussion that this could be extended to domestic flights as well, continue to make travel arduous and complicated, and potential customers are still wary about booking trips.
Airline executives continue to hope that confidence and demand will return when nationwide vaccination ramps up in the coming months.