United Airlines has warned 36,000 employees, or 45% of its total staff, that their jobs may be in danger as the carrier prepares to downsize following the coronavirus pandemic.
Affected workers whose roles may be impacted later this year include flight attendants, pilots, gate agents as well as customer service, contact center, catering, network operations and maintenance employees, executives at the Chicago-based airline tell journalists on 8 July.
"The involuntary furloughs that we worked so hard to avoid are now the last option left to protect the long-term interests of the company and the long term prospects for thousands of United employees," one United executive says in a media briefing call. The executive declined to be named.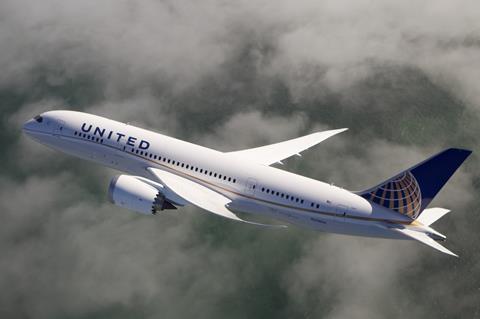 That said, the airline will continue to offer voluntary leave and early exit packages to all employees, and the actual number of furloughs the airline will need to make in the fourth quarter will depend on the uptake of these packages as well as the return of passenger demand.
But that won't likely happen until there is an effective therapy for coronavirus, or a vaccine, or both, they add.
So far, about 26,000 employees per month have taken voluntary leaves or participated in plans to reduce work hours, which have been offered on a month-by-month basis, and have helped the airline reduce cash burn to $40 million per day. Some 3,700 employees have decided to leave the company completely, United says.
The breakdown of potential furloughs includes: 15,000 flight attendants, 11,000 customer service and gate agents, 800 catering employees, 1,000 contact center employees, 225 network operations employees, 5,500 maintenance employees and 2,250 pilots.
Most of the furloughs will be based upon seniority status, executives say, and employees will be informed if they are being furloughed by mid- to late-August.
PAYROLL SUPPORT
Earlier this year, United took $5 billion in payroll support through the US government's CARES Act to help boost liquidity as passenger demand fell to historic lows due the shelter-in-place orders and travel restrictions imposed to prevent the spread of the highly-communicable coronavirus.
As a condition for taking aid, airlines agreed to refrain from involuntary layoffs until at least 30 September. With that deadline fast approaching, carriers like United are now beginning to make contingency plans in case demand does not return to pre-coronavirus levels. Industry analysts have said they expect it to take about three years for the sector to return to 2019 business.
The CARES payroll support programme "prevented us from having to make rash decisions when our business was in a free fall", the airline executive says, adding it gave the carrier more runway to make "smart and strategic decisions". However, they add that they do not see any further government aid forthcoming, in order to extend that lifeline for the airlines and their employees.
Last week, United said it was adding 25,000 flights to its August schedule, triple its June flights. But on 7 July it reversed course, saying new travel restrictions and isolation requirements in some US states have led to an increase in cancellations of forward bookings. Therefore, the airline has re-assessed and will only fly about 35% of its planned schedule in August.
The cancellations come as governors of the three states around New York City – serviced by United's popular East Coast hub at Newark Liberty International airport – began at the end of June to require inbound passengers from numerous other US states to isolate for 14 days after arrival. A similar order for Chicago, another United hub, went into effect on 6 July.
FURLOUGHS ARE 'GUT PUNCH'
While not completely unexpected, the furloughs are a shock to an industry that has been trying to find a way to save cash and attract passengers back after four months of battling the global pandemic. Since April, all major US carriers have stored aircraft, reduced schedules, cut costs and shrunk their networks in broad efforts to mitigate the sudden and drastic effects of the virus on their operations.
"Today is a devastating day for United pilots," says Todd Insler, chairman of United's chapter at pilot union Air Line Pilots Association, International, in a video message to pilots on 8 July. "Furloughing employees is corporate triage with a terrible impact on thousands of United families [and] ALPA is doing everything we can to support our fellow pilots and we expect to have final agreement on several voluntary programmes which will mitigate these furloughs," he adds in a statement.
Sara Nelson, president of the Association of Flight Attendants-CWA flight attendant union, says on 8 July in a tweet that the United furloughs are "a gut punch". She reiterated calls on Congress to extend the payroll support programme (PSP) that has saved thousands of jobs so far.
"The PSP is an historic workers-first programme: effective at saving jobs, transparent in application, and so far the most responsible use of public money in this crisis. We need to extend it and expand it for all working people and create the jobs necessary to fight the virus," she says.