The US airline sector is urging the Department of Transportation (DOT) to lead the creation of global Covid-19 testing standards for international travellers.
In addition, the group wants the department to create a globally accepted "health pass programme".
Trade group Airlines for America (A4A), which represents major US carriers, outlined that vision in an 18 January letter to Pete Buttigieg, who President Joe Biden has nominated to become Secretary of State for Transportation.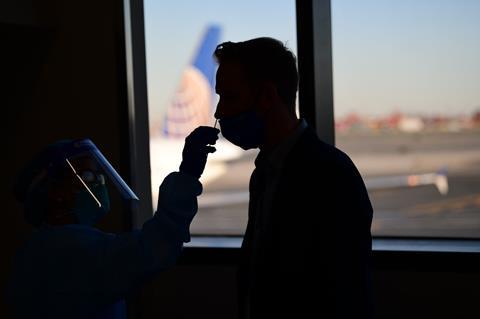 A4A's letter notes that US airlines remain on shaky ground, with passenger numbers down 60% and the sector burning about $150 million daily.
To weather the storm, US airlines took on an estimated $67 billion in debt last year, which will require interest payments of about $5 billion annually for several years, more than double previous levels.
"This remains a very dire situation for our industry," says A4A's letter. "We cannot sustain our businesses as they exist with this kind of passenger capacity."
A4A says Covid-19 testing requirements can help travel rebound, and that the US government is best situated to lead such an effort.
"There is widespread agreement in the aviation and travel industries that appropriate Covid-19 testing protocols can enable the reopening of international travel markets," the group says.
Due to the complexities of such an effort, "we call on the US government to work on a bilateral and multilateral basis to establish a globally accepted framework for testing protocols for international travel."
The group also wants the USA to create a "health pass programme" that would clearly identify travellers who have met testing requirements. The programme must have the ability to validate the legitimacy of Covid-19 tests and to accommodate multi-leg and international itineraries, A4A says.
As of 26 January, the US government will require that inbound international air travellers present a negative Covid-19 test that is less than 72h old.