US airlines are seeking at least $50 billion in financial aid as they manage through the coronavirus crisis, which has caused a sharp drop in demand and mounting losses for an industry accustomed to years of progressive profit growth.
Airlines for America (A4A), which represents eleven of the biggest US passenger and cargo carriers including United Airlines, Southwest Airlines, Delta Air Lines, FedEx and American Airlines, says on 16 March that carriers have experienced "unprecedented harm" in the past two weeks.
In a document published on its website, the trade organisation says net bookings have exceeded negative 100% for the coming months, and cancellations at some carriers are outpacing bookings two-to-one.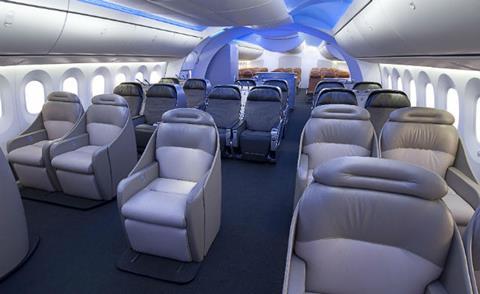 The industry body is asking the US government for a mix of grants, loans and tax relief as carriers see their business decimated due to fears of the global pandemic's spread as well as onerous travel restrictions imposed by several countries, including the US.
A4A expects its member airlines to experience a decline in liquidity of between $18 billion and $26 billion alone in the first six months of 2020.
In this worst-case scenario, "all seven of A4A passenger carriers run out of money completely sometime between June 30 and the end of the year," the association says. "Making matters even more urgent, credit card companies would likely begin withholding cash from sales before the carriers actually run out of money, effectively causing carriers to run out of money earlier than June 30."
There is discussion among airline analysts and industry experts that the US government may close the airspace to passenger carriers completely in the coming days, allowing only freight and cargo to be transported by air. Some airlines are already contemplating switching passenger flights to cargo-only flights.
"A 30-day domestic travel ban would worsen our optimistic scenario by $7 billion and our pessimistic scenario by $10 billion," the industry association says.
About 750,000 people are employed by the airline industry in the United States, and many carriers have already announced measures to preserve cash reserves. These include offering voluntary unpaid leave to employees, grounding portions of their fleets and reducing new investments or delaying delivery of aircraft. Some airlines have begun to furlough pilots, and have cut capacity by 50% or more.
CANADIAN REQUEST
The Air Transport Association of Canada (ATAC), which represents some smaller Canadian airlines, has likewise made an "urgent appeal for immediate government financial support to the air transport industry of Canada as it deals with the COVID-19 pandemic", according to a 16 March letter from the group to the Canadian government.
ATAC's members include a host of smaller airlines, among them Porter Airlines, Flair Airlines, cargo operator Cargojet and Chorus Aviation, which owns Air Canada regional-aircraft operator Jazz Aviation.
The move comes after Air Canada said earlier in the day that it intends to seek government assistance.
"Government financial assistance is urgently needed to avert a crisis in the aviation industry," the letter says. "ATAC expects that any financial aid package for the air transport industry would be made available to all air carriers. This is the only acceptable way to maintain a level playing field in such a difficult time."