As the coronavirus crisis rapidly disrupts airline operations worldwide, major US carriers are taking measures to prevent price gouging for passengers desperate to return to the USA before travel restrictions between Europe and the US take effect on Friday.
"We currently have change fee waivers in place for any customers traveling domestically and internationally through April 30," United Airlines says in a statement on 12 March. "For those trying to get home from Europe, we have capped fares between the US and Europe. Importantly, we will continue to fly our regular schedule from Europe to the US through March 19."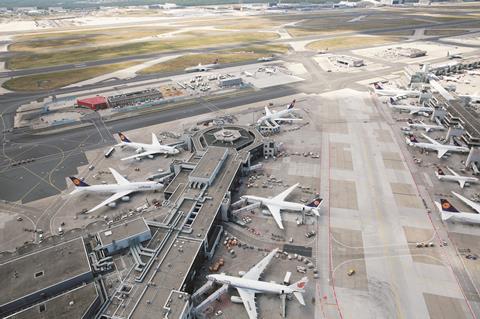 "After that, we expect to fly daily to Zurich, Brussels, Paris, Amsterdam, Manchester and Edinburgh, maintain multiple flights to Frankfurt and Munich, and operate 18 daily flights to and from London, three to Dublin and less than daily service to Lisbon, all while continuing to monitor demand," United adds.
American Airlines also responded to the massive demand of travelers looking to return to the US prior to the new entry restrictions.
"We have capped our Main Cabin fares from Europe and the UK at a maximum of 799 EUR/GBP ($893/$1,004) and fares from the US have been capped at $1,000," American says in a statement, also on Thursday. "These fares include taxes and fees that are typically around $250 to $300 on transatlantic routes. We are also offering reasonably priced fares for our premium cabins on our transatlantic routes."
Delta Air Lines says it too is putting a lid on fares from Europe. It will also suspend several connections between Paris and Amsterdam and US cities.
Almost 40 airlines operate a combined roughly 560 passenger flights daily, carrying some 160,000 seats, in both directions, between the USA and continental Europe, excluding the United Kingdom, according to Cirium schedules data. That equates to nearly 17,000 flights and 4.8 million seats in the 30-day period during which the travel ban is set to be in effect.
American, United and Delta alone operate more than 200 daily flights between the USA and mainland Europe.
Earlier in the day, numerous Twitter users posted about chaos at European airports and massively inflated prices for westbound tickets as the demand for seats from Europe to the United States spiked overnight.
The US government surprised many European leaders on 11 March by declaring US borders closed for 30 days to travellers who have recently visited 26 European countries.
The ban encompasses travellers from Austria, Belgium, Czech Republic, Denmark, Estonia, Finland, France, Germany, Greece, Hungary, Iceland, Italy, Latvia, Liechtenstein, Lithuania, Luxembourg, Malta, Netherlands, Norway, Poland, Portugal, Slovakia, Slovenia, Spain, Sweden and Switzerland, according to the US Department of Homeland Security.
US president Donald Trump claimed on 11 March that the EU had "failed to take the same precautions" as the USA regarding travel restrictions on China and other regions at risk. As a result, he said, infection clusters in the USA were "seeded" by travellers originating in Europe.
Updated on 12 March to add Delta Air Lines statement on fares and routes.