US airline trade group Airlines for America (A4A) expects 39% fewer passengers will travel by air during this year's Thanksgiving holiday period, which will be characterised by markedly different travel patterns amid a third wave of coronavirus infections.
The Thanksgiving holiday is celebrated on the fourth Thursday in November – this year that falls on the 26th – and is traditionally the busiest travel weekend of the year in the USA. Many people take additional days off, stretching the holiday into a longer break.
In 2019, US airlines carried more than 31.6 million passengers during the 12 days spanning the period from the Thursday before the holiday to the Monday after. This year, they will carry just more than half that number across a longer timeframe, A4A projects.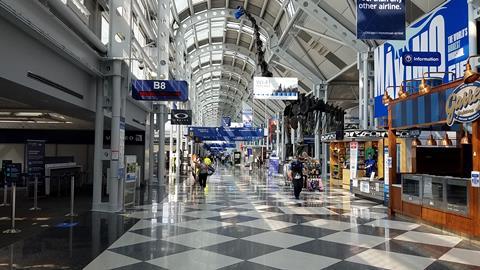 "On a day-to-day basis, the number of passengers is down about 65% year-on-year," says Nicholas Calio, the trade group's chief executive. "We hope that to go up at Thanksgiving, but the demand is softening."
A4A says the nine top US passenger carriers' scheduled capacity for Thanksgiving week is down about 39% from last year's level. Still, that is an improvement from the first half of November, at 47% lower, and the first half of December, at 46% lower.
Traditional travel patterns are shifting, A4A's chief economist Jon Heimlich says.
"Travel is dispersing," he says. "If you are working remotely you have more flexibility when you come and go."
Therefore, the lobby group expects this year's Thanksgiving travel period will span about 14 days, not the usual 12.
Another factor that could influence customer travel behaviour is an uneven patchwork of testing and quarantine requirements and other travel restrictions, coupled with the complexity of planning around the requirements.
Airlines have reported that many customers are booking closer to departure to minimise the risk of their plans being disrupted, and then may spend more time at their destinations.
"Some people may say, 'If I'm going to travel, I might as well stay a few extra days'", Heimlich says.
University students often make up a large percent of Thanksgiving travellers.
But this year, many have either stayed home and engaged in online learning during the first three months of the school year, If they do travel home, may be asked to remain there until after Christmas. So, the industry could see an uptick in one-way tickets, Heimlich says.
In the past week, coronavirus infections have exploded across the country, with more than 40 of the 50 US states currently in the "red zone", meaning uncontrolled and substantial community spread.
But even as lawmakers across the United States have called upon people to celebrate the holidays at home within their own households and to keep any parties small, airlines have expanded their offerings.
Chicago-based United Airlines, for example, last week added 1,400 flights to its schedule, banking on leisure travellers wanting visit family and friends or take holidays.
However, on Tuesday, the government of Nevada, home to popular holiday destination Las Vegas, warned it is considering re-imposing strict measures to mitigate the spread of the virus.
Earlier this year, the state's gaming industry – which accounts for a large part of Nevada's economy and tax income - took a huge hit as it was forced to close for more than two months. Since many casinos opened again in June, the state has seen a rise in visitors, but also in infections.
While international and business-related travel remain "negligible", A4A says one bright spot is the return of visitors to Hawaii, which last month relaxed a 14-day quarantine requirement for all inbound passengers.
In the past week, there were 76% fewer travellers to the archipelago than in the same period a year ago. That is improved from the previous 95% decline between 26 March, when the quarantine was imposed, and 15 October, Heimlich says.
"This is promising and can plausibly be replicated domestically and internationally," he adds.
Some airlines have begun offering pre-departure testing programmes, so that customers can arrive with negative result in order to avoid quarantines.
Many in the industry agree that a comprehensive, coordinated testing programme is the best way to inspire customers to return to air travel until a vaccine is widely available.
In the meantime, education about the effectiveness of airlines' cleaning protocols, aircraft air filtration systems and other safety measures like contactless check-in and mandatory face coverings in airports and onboard are crucial instruments to getting customers back on flights.
"You're safer on an airplane than you are in a grocery store or a bar or a restaurant, or even your own home," Calio says. "We are trying to get that message out."