US airlines plan to make 11.4 billion litres (3 billion USgal) of sustainable aviation fuel (SAF) available to aircraft operators by 2030 – up 33% from a previous target of 7.6 billion litres.
The pledge is part of an industry commitment to achieve net-zero carbon emissions by 2050, trade group Airlines for America (A4A), which represents the country's top 10 passenger and cargo airlines, says on 9 September.
"We know the climate-change challenge has only continued to intensify. Accordingly, A4A member carriers have embraced the need to take even bolder, more-significant steps to address the climate crisis," A4A chief executive Nicholas Calio says.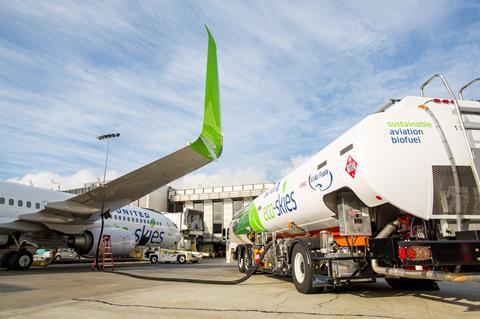 In March, A4A committed to ramp-up SAF production to make 7.6 billion litres available to US carriers by 2030. That would have required a massive 84% average increase in production for each of the next 10 years.
Sustainable aviation fuel, which is made from sources such as forest floor debris, old clothes, cooking oil or municipal garbage, can reduce life-cycle carbon dioxide (CO2) emissions by up to 80% compared to conventional jet fuel. More than 40 carriers worldwide have begun using this type of fuel to help shrink their carbon footprint.
Air travel is thought to be responsible for about 2% of greenhouse gasses worldwide.
A4A has also advocated for a tax break for blenders of SAF in order to kick-start production, as well as public-private partnerships for research and development.
"To get there, we must work together – industry and government," Calio says.
The biggest barriers to increased SAF adoption are their limited supply and high cost. SAF accounted for just 0.1% of all jet fuel used in 2019, and it is usually approximately three to five times the price of conventional fossil-based jet fuel.
In May, US lawmakers introduced a bill that would subsidise production of SAF. The "Sustainable Skies Act", backed by Democrats, is part of a broader effort by the administration of President Joe Biden to address climate change.
The bill would offer a tax credit of up to $2 per gallon to biofuels producers.