United Airlines' chief executive Scott Kirby says a shortage of pilots could hinder airline industry growth for the next five years at least, while Alaska Air Group CEO Ben Minicucci calls the issue "one of the biggest constraints" facing US commercial airlines.
During Chicago-based United's first-quarter results call on 21 April, Kirby said a recent company analysis of the issue, which is affecting the entire US airline industry, revealed stunning conclusions.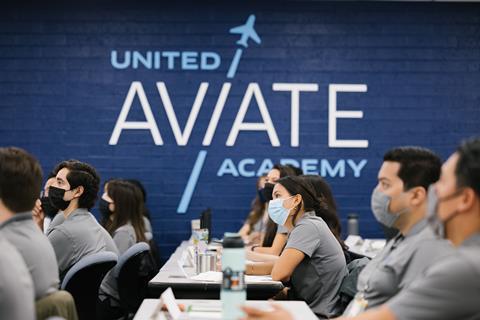 "The industry historically produces between 5,000-7,000 pilots a year," he says. "This year, the industry's intent is to hire 13,000 pilots, and given the growth aspirations of airlines, it's even more next year. But there are only 5,000-7,000 available."
"That was an epiphany for us," Kirby says.
The dearth of flight-deck crew – an issue that airlines saw looming even before the coronavirus pandemic – was exacerbated during the global health crisis, when thousands of senior pilots took extended leaves or left the industry.
At the time, there was no telling how long the crisis and associated travel restrictions would last, and what the ultimate damage to the industry would be. So airlines shrunk their fleets and rapidly curtailed staff in an effort to salvage cash wherever they could.
Those decisions are coming back to haunt them.
The problem, Kirby adds, has no easy fix, even though airlines across the USA are scrambling to set up flight schools, pathway programmes, scholarships and other means to support career entrants.
United launched its Aviate flight training programme in 2021 after it bought a flight school in Phoenix. It plans to train 5,000 professional pilots at the school in the next 10 years.
But it takes so much more to prepare pilots for airline careers.
"You can set up flight schools to get people to 25 hours – to get their first license – pretty easily. But then they have to get from 25 hours to 1,500 hours" to qualify for a seat in a commercial airliner cockpit," says Kirby.
The FAA requires pilots log those 1,500h of total time before they apply to fly a commercial airliner.
"That 7,000 number could probably go up, but it's not going to get to 13,000 any time in the next five or six years," Kirby adds. "This is an under-appreciated factor and it's just not quick to fix."
United is bringing in 200 new pilots a month, Kirby adds. That means United plans to hire half to one-third of the available commercial pilots this year.
On Alaska Air Group's first-quarter results call on 21 April, Minicucci echoed Kirby, saying the Seattle-based carrier plans to hire 600 new pilots this year for its mainline operation, and "a couple of hundred" pilots for its regional subsidiary Horizon Air.
But Alaska's training capabilities are busting at the seams. "It's been a huge strain on our training system," Minicucci says.
"This will be one of the biggest constraints for the industry going forward. All airlines are taking destiny in their own hands."