A US court has confirmed Colombian flag carrier Avianca's reorganisation plan, clearing the way for the airline to emerge from Chapter 11 bankruptcy proceedings by the end of the year.
"We are pleased to have reached this critical milestone and look forward to emerging as a stronger organisation that is well-positioned to fly the skies for many years to come," chief financial officer Rohit Philip says on 2 November.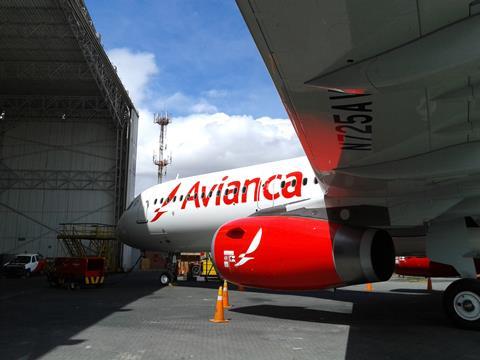 Chief executive Adrian Neuhauser adds: "Looking ahead, with a stronger financial foundation, Avianca will be better positioned to capture recovering travel demand with a compelling value proposition to meet the needs of today's clients across Latin America and beyond."
The Bogota-baesd airline's new business plan calls for a "higher network density" with a "leaner cost structure" focused on offering more point-to-point routes across the continent. The carrier says that by the end of 2025 it will have a passenger fleet of "more than 130 aircraft" flying 200 routes. The carrier also aspires to grow its cargo business and its loyalty programme as part of the new plan.
In October, Neuhauser told FlightGlobal that the airline currently operates about 100 routes, the "vast majority" of which do not touch the Colombian capital.
Last week, Avianca also announced plans to operate a simplified widebody fleet, featuring only Boeing 787-8s. That means that the carrier's seven Airbus A330-200 aircraft, four of which are operating, with the other three in storage, will be exiting the fleet.
According to Cirium fleets data, Avianca curently has six Rolls-Royce Trent 1000-powered 787-8s in service and seven in storage.
It is unclear what will happen to the one 797-9 the carrier currently has in storage, or the two on order, as per Cirium data.
Avianca submitted its reorganisation plan to the bankruptcy court for the Southern District of New York on 10 August. An initial hearing on 26 October resulted in a delay, pending further documentation that was submitted to the court last week.
Avianca was one of three Latin American carriers – along with Chile's LATAM Airlines Group and Mexico's Aeromexico - which voluntarily entered the Chapter 11 process in mid-2020 after the global pandemic suddenly decimated demand for air travel.
It is the first of the three to have its reorganisation plans confirmed. Mexico City-based Aeromexico said earlier this week that that its next court date is on 17 November, while the bankruptcy court last week granted LATAM more time to present a restructuring plan, setting the new deadline for 26 November.