The US government has imposed a travel ban on non-citizens and permanent residents coming from eight countries in southern Africa, where a new variant of the coronavirus, which the World Health Organization (WHO) has called "Omicron", is causing concern.
"This morning I was briefed by my chief medical advisor, Dr Tony Fauci, and the members of our Covid response team, about the Omicron variant, which is spreading through Southern Africa," President Joe Biden says in a statement on 26 November. "As a precautionary measure until we have more information, I am ordering additional air travel restrictions from South Africa and seven other countries."
"These new restrictions will take effect on November 29," he adds. "As we move forward, we will continue to be guided by what the science and my medical team advises."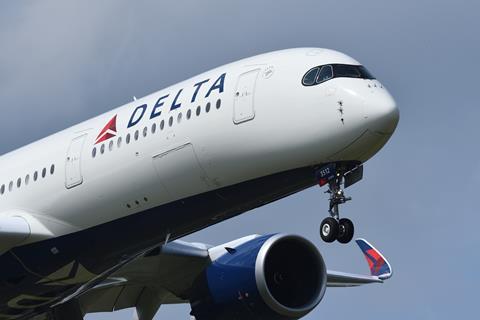 The countries are Botswana, Eswatini, Lesotho, Malawi, Mozambique, Namibia, South Africa and Zimbabwe.
The restrictions come after Canada and the European Union imposed similar measures to mitigate the spread of the variant, earlier in the day.
According to Cirium networks data, United Airlines and Delta Air Lines are currently the only US carriers that operate nonstop flights between the US and southern Africa. United flies to Johannesburg from its east-coast hub Newark Liberty International airport and Delta operates flights from Atlanta's Hartsfield-Jackson International airport, also to Johannesburg.
Neither airline immediately responded to requests for comment in response to the new policy.
Earlier in the day, United Airlines said it was "monitoring the situation" but did not give further details.
Governments around the world have rapidly imposed restrictions on travel from the region in response to the newly identified variant of Covid-19. The WHO says on 26 November that the new B.1.1.529 variant, or "Omicron", is a "highly transmissible virus of concern".
Canada's minister of transport Omar Alghabra says on 26 November that the country is also re-imposing an entry ban for non-citizens, and mandatory testing for Canadians arriving from the affected region.
"Today we are banning entry for foreign nationals that have travelled to southern Africa in the last 14 days," he writes on Twitter. "We will also make testing mandatory on all Canadians entering into Canada and having travelled to southern Africa in the last 14 days."
Scientists say the mutations may make it more transmissible than the currently dominant Delta variant of the disease and potentially more likely to evade the immune response from previous infections and vaccination. They stress, however, that more research – and time – is needed to establish the likely impact of the variant.