Not long ago, US airline executives expected a business-travel rebound would take hold this autumn.
That never happened. Again, Covid-19 upended expectations.
Now, Delta Air Lines chief executive Ed Bastian says his team thinks the US business-travel rebound will begin later this year or, perhaps, early next year.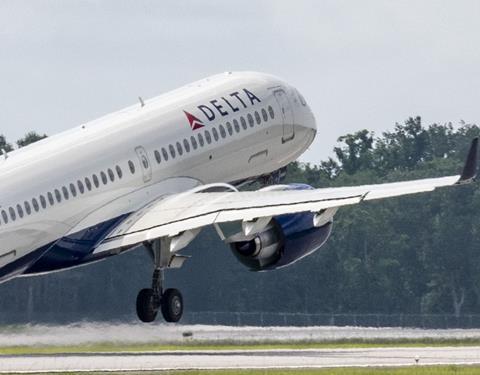 "We were anticipating, as we got into the post-Labor Day travel [period], seeing a step-up in business travel," Bastian said on 9 September during a transportation conference hosted by investment bank Cowen.
Instead, "many of those have pushed [travel plans] back into the latter part of the year or early next year," he says. "The delay is in the 90- [to] 120-day timeframe."
Blame lies with the summer surge in Covid-19 infections, particularly the spread of what Bastian simply calls the "variant" – a tacit reference to the "Delta" variant.
Atlanta-based Delta's business travel remains at about 40% of 2019 levels – roughly unchanged since the summer. Though many business travellers have already returned to the skies, "they are just not travelling in the volumes necessary yet to get our business back where it needs to be", Bastian says.
The virus' summer blitz also upended an expected opening of international borders, Bastian adds. "That's another thing we have been wrestling with."
The changing demand picture has not led Delta to adjust third-quarter financial expectations, though Bastian now predicts the quarter's returns will be "at the lower half of the guide".
In that guide, released in July, Delta estimated its third-quarter 2021 revenue would be 30-35% less than revenue in the same period of pre-Covid 2019, with capacity down 28-30%.
"We are going to be profitable this quarter – the third quarter," Bastian says.
Also, he stresses that Delta continues to ramp its operation so to be prepared as demand rebounds. The carrier has hired nearly 6,000 people this year.
But Delta's staffing remains below 2019 levels, a result of pandemic-driven voluntary exits and retirements. At the end of 2020, the airline employed some 74,000 people, down from about 91,000 at the end of 2019, securities documents show.