US airlines are adjusting their third-quarter financial expectations in response to higher-than-anticipated fuel costs and extreme weather events that have disrupted operations throughout North America.
Alaska Airlines disclosed on 6 September that its estimated fuel cost per gallon during the period has been adjusted to $3.15-$3.25 from its previous estimate of between $2.70 and $2.80 – a roughly 16% bump.
"Over the past several weeks, fuel prices have increased considerably, driving a downward revision to our adjusted pre-tax margin expectations for the quarter," Alaska says in a filing with the US Securities and Exchange Commission (SEC).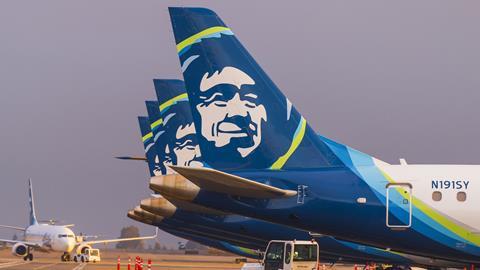 The carrier has reduced its expected pre-tax margin for the three months ending 30 September to 10%-12% from 14%-16%, it says.
Alaska now projects its third-quarter revenue will increase 1%-2% over the same period of 2022, compared with its previous expectation of 0%-3% growth.
"Regarding revenue, close-in booking strength continued through August," Alaska says. "However, the tragic fires that occurred on Maui have resulted in cancellations to the island as the community works to recover. Given these offsetting impacts, we are tightening our revenue guide to up 1% to 2%, with the midpoint unchanged from our original guidance."
Airlines are acutely sensitive to changes in fuel prices, which make up a significant portion of quarterly costs. Alaska is especially affected by jet fuel price fluctuations due to the location of its headquarters.
"If fuel goes up even a penny, we take a look at what it's going to do to our [profit and loss]," Ann Ardizzone, vice-president of supply chain for Alaska, said during the 11 July ground-breaking ceremony for a new sustainable aviation fuel plant in eastern Washington. "It is very important to the functioning of any airline, and today Alaska pays a higher price for fuel than any other airline in the United States because we're based in Seattle."
United Airlines also reported on 6 September that it is feeling pressure from rising fuel costs.
"Fuel jumped up a bit after everybody's [second-quarter] earnings calls, so I don't think we were alone in updating fuel in the third quarter to reflect that fuel has gone up 20-ish percent," United chief financial officer Gerry Laderman said during TD Cowen's Global Transportation Conference on 6 September.
The Chicago-based carrier increased its fuel cost per gallon estimate for the third quarter to between $2.95 and $3.05. Previously, the airline had said it expected fuel to be in the $2.50 to $2.80 per gallon range.
Dallas-based Southwest Airlines made a similar adjustment, updating its estimated third-quarter fuel costs to between $2.70 and $2.80, compared with its previous estimate of $2.55-$2.65.
However, that carrier says it still expects "record third-quarter operating revenues" based on a strong showing during the busy US Labour Day travel period, and "very strong daily operational performance" offsetting the impact of about 1,400 cancellations due to extreme weather events throughout its network.
Sun Country Airlines also anticipates roughly 20% higher fuel costs in the third quarter. Providing a company update during Cowen's investor conference, chief executive Jude Bricker says fuel costs "are up substantially versus where we were at, but other than that everything is on track".