Global Crossing Airlines, a start-up charter carrier based in Miami, booked 175 operating hours and $1.4 million in revenue during its first month in business.
In an investor update on 1 September, chief executive Ed Wegel says the carrier, which calls itself "GlobalX", now has two Airbus aircraft and anticipates adding four in the coming months. He expects GlobalX will have 10 Airbus jets by the end of 2022.
In early August, GlobalX received Federal Aviation Administration clearance to operate under Part 121 rules, which apply to large scheduled airlines. Its first charter flight took place on 7 August. GlobalX gained foreign operator authority on 27 August, meaning it can fly internationally.
Wegel says GlobalX will conduct its first international flight "next week".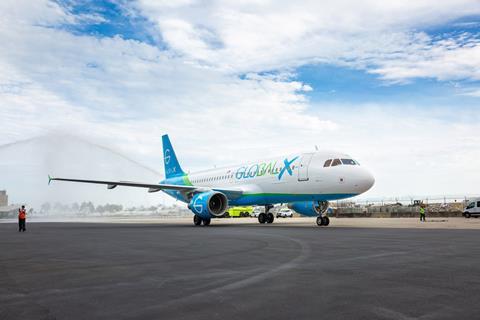 In its first month of operations, GlobalX signed 40 contracts to operate charters, including with the US government, a "major" Caribbean airline, a California-based resort and two universities, says chief marketing officer Mark Salvador.
The carrier is "in the initial stage, about to contract", with other prospective customers, including European soccer teams, college sports teams and rock bands, Wegel adds. "We have cast a wide net and are in discussions with a lot of clients for 2022."
In addition, GlobalX seeks "major track charter programmes" – those involving 150-200h of flights monthly for a single client. "That allows us to put crews and other resources in place efficiently, and it's a good source of business," Wegel says.
GlobalX assisted in the recent evacuation of refugees from Afghanistan which, Wegel says, spurred increased business interest from the US government.
STRONG FIRST MONTH
For its first operating quarter, which ends on 30 September, the carrier expects to book around $2.9 million in revenue. The company estimates that figure will rise to $7.6 million in the fourth quarter of 2021 and $10.4 million in the first quarter of 2022.
As of 31 August, the company was certified to fly A318s, A319s, A320s and A321s. It started with a single A320 (tail number N276GX), but has since added a second aircraft, an A321 (N277GX), to its operating certificate.
Leases for three further Airbus A320s have been signed. The first of those, a jet with tail number N279GX, is expected to be delivered to the airline "in a few weeks", followed by the second aircraft (N278GX) at the beginning of October and the third (N280GX) in the first part of 2022.
"We expect to have 10 A320s in passenger charter operations by the end of 2022," Wegel says.
The company's Northeast US base in Atlantic City – 120 miles (192km) southwest of New York City – is now fully operational. One aircraft will be based there from October, with two more based in Atlantic City by the second half of 2022, Wegel says.
"We are able to quote and bid on lots of charter work in the Northeast that we would not be able to get if our airplanes were all based in Miami," Wegel says.
In addition, GlobalX plans to open a western US base and training centre in Las Vegas by the end of the year. GlobalX will base its sixth aircraft (N281GX) at that location from early 2022.
"That allows us to cover the entire country, and allows us to move an airplane anywhere in the US with a maximum ferry time of two hours," Wegel says.