Both houses of the US Congress have passed the third comprehensive coronavirus relief package for the air transport industry, which would grant airlines $14 billion more in payroll support as the crisis drags on.
The US Congress passed the legislation, called the "American Rescue Plan Act of 2021", early on 6 March. It now heads back to the House of Representatives for a final vote on 9 March and is expected to be signed by President Joe Biden shortly thereafter.
The aid would come with the same conditions as included in the previous financial relief measures. It would prohibit airlines from laying off staff for another six months, until the end of September 2021, and restrict airline executive pay and share buybacks.
The funds would provide about 60% of the airlines' employee costs.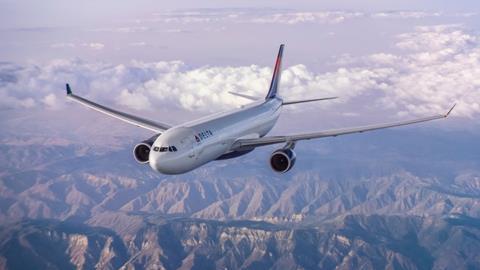 The bill also would provide $3 billion in payroll funds to aerospace companies, including those making aircraft, aircraft engines and other aircraft components. That money would supplement half of those companies' employee compensation costs.
US pilot union Air Line Pilots Association, International (ALPA), which represents cockpit crew at more than 30 airlines in the US and Canada, had been lobbying for an extension alongside other unions and airlines.
"ALPA is grateful for the dedication by congressional leaders to ensure that the US aviation industry remains positioned to help our nation recover from the Covid-19 crisis," union president Joe DePete says on 6 March. "Tens of thousands of aviation workers will remain on company payroll and off unemployment as intended by this worker-first programme. This important aspect of the overall legislation will help keep our aviation industry poised to quickly respond to increased operations as demand returns."
The Allied Pilots Association (APA), which represents American Airlines' 15,000 pilots, echoed that support.
"Thanks to the American Rescue Plan Act of 2021, our airlines will be well positioned to continue global vaccine distribution and drive economic recovery as the Covid-19 pandemic recedes," says APA president Eric Ferguson. "By investing in the airline industry's future, Congress is making a vital investment in our nation's future."
As the crisis unfolded last March, the US government provided $25 billion in grants to support the air transport industry as lockdown measures intended to mitigate the spread of the virus led to a sharp decline in passenger demand. At the time, airlines struggled to maintain skeleton networks and encouraged thousands of workers to take extended unpaid leaves, separate from the company completely or retire early, in order to preserve liquidity. That aid expired on 30 September 2020.
A second plan, passed at the end of December, provided another $15 billion in payroll support through the end of March.
Airline executives and other industry participants hope this third plan will help carriers through the summer, and that with widespread vaccination efforts in the coming months, passengers will return to air travel.
According to the US Centers for Disease Control and Prevention (CDC), as of 7 March almost 18% of the US population has been vaccinated. The administration of president Joe Biden had set a target of 100 million vaccinations in its first 100 days. It is currently on track to beat that goal. Biden said last week that all Americans who wish to be vaccinated could be by the end of May.
Meantime, travel companies and airlines are expanding their networks and gearing up for what they hope will be a busy summer travel season.