The US Department of Transportation (DOT) is looking to impose a $25.5 million civil penalty on Air Canada after the carrier dragged its feet on refunding tickets held by US passengers.
The DOT's Office of Aviation Consumer Protection (OACP) says on 15 June that it has filed a formal complaint against the Montreal-based airline "regarding the carrier's failure to provide refunds in a timely manner to thousands of consumers who requested them for flights to or from the United States that the carrier cancelled or significantly changed".
DOT adds that under its rules, the airlines have seven days to refund tickets purchased with a credit card and twenty days for tickets purchased with cash.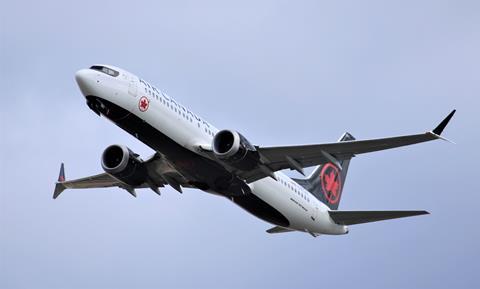 As various jurisdictions – including Canada - imposed strict coronavirus-driven lockdowns in March last year, airlines dramatically cut service and customer refund requests spiked. In May 2020, the OACP had said it would crack down on airlines that did not meet its conditions for refunding those fares.
DOT says in its 15 June filing that Air Canada "did not make…good faith efforts" to return the money to US customers.
"Instead, for almost one year after the announcement of the May 2020 enforcement notice, Air Canada continued its no-refund policy in violation of US law," DOT says.
Air Canada says the enforcement proceedings have "no merit" and the airline "will vigorously challenge" them.
"As stated in the department's own enforcement notice and Covid-19 refund FAQ, these documents constitute agency guidance… as opposed to properly issued regulations under the Administrative Procedures Act," Air Canada says. "As mere guidance, they cannot overrule or supersede the department's well-established regulatory framework, as instituting a new regulation requires public notice and comment."
"Indeed, the department's Covid-19 Refund FAQs document acknowledges that it 'does not have the force and effect of law and is not meant to bind the regulated entities in any way,'" the airline responds.
6,000 CUSTOMER COMPLAINTS
Since 1 March 2020, DOT says it has received more than 6,000 complaints against the airline, and that customers had to wait between five and 13 months to receive the refunds they were due.
The Canadian airline only changed its policy in April after it reached a C$5.9 billion ($4.7 billion) bailout deal with the government, DOT says. Of that sum, C$1.4 billion was set aside to refund customers.
"Air Canada's new refund policy does not change the fact that Air Canada committed thousands of violations of US law prior to that time," DOT writes. "Moreover, in the absence of an order directing Air Canada to cease and desist from future similar violations, there remains the possibility that Air Canada could revive its no-refund policy in the future."
DOT says the OACP is also "actively investigating" other airlines - both in the US and overseas - for their refund practices, and it will enforce cases as it deems appropriate.
Air Canada has 15 days to file a response with the DOT.
Updates on 15 June to add Air Canada's response.