The US Department of Transportation (DOT) has given its long-awaited approval of antitrust immunity to the proposed joint venture between Delta Air Lines and LATAM Airlines Group.
The companies says they will now "work closely to create the leading airline partnership between the United States/Canada and South America".
The partnership will encompass flights to Brazil, Chile, Colombia, Paraguay, Peru and Uruguay – connecting "the Americas to the world like never before, with access to more than 300 destinations", they add.
The DOT approved the deal in a 30 September order. In June it had tentatively cleared the plan, which is more than three years in the making.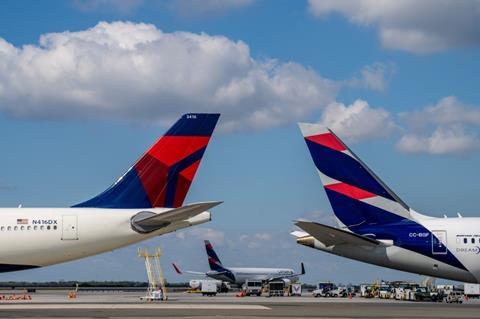 "Delta's partnership with LATAM will help grow the market between North and South America and provide significant and much-needed benefits for customers," says Delta chief executive Ed Bastian. "Now, we'll get to work with LATAM to transform the travel experience for our collective customers and create new opportunities for our employees."
"The approval by the DOT will give rise to the start of work with Delta to deliver more and better benefits to LATAM and Delta customers, such as faster connections and the joint accrual of miles in frequent-flyer programmes," adds Roberto Alvo, LATAM CEO.
The joint venture, which the companies have been pursuing since mid-2019, was approved by Chilean competition authorities in October 2021.
The partnership will see the carriers operate flights under each other's identification between, within and beyond their home countries. It includes flights operated by Delta Connection's US regional affiliates SkyWest Airlines, Republic Airways and Endeavor Air.
The carriers also introduced loyalty programme reciprocity, and relocated to the same terminals at some of their most-important hubs.
The DOT's approval requires the airlines implement the JV within six months, and its antitrust immunity expires after 10 years. The order also compels both airlines to be open to interline agreements with other carriers between North and South America.
In September 2019, Delta announced plans to take a 20% stake in the Latin American carrier, worth $1.9 billion.
At that time, LATAM said it would leave the American Airlines-dominated Oneworld alliance, of which it had been a member for 20 years. The deal came after a Chilean court stopped a potential joint venture between LATAM and Fort Worth-based American.
In December 2019, Delta and LATAM said they would begin code-sharing on flights operated by certain LATAM affiliates in Colombia, Ecuador and Peru in the first quarter of 2020.
The airlines signed a joint venture agreement in May 2020, which regulators in Colombia, Brazil and Uruguay subsequently approved.
The carriers applied to the US DOT for blanket approval to operate code-share routes within each others' networks on US-Chile routes, and also to third countries, in July 2020.