The US Department of Justice (DOJ) has sued to block JetBlue Airways' proposed acquisition of rival discount carrier Spirit Airlines after months of scrutinising a deal that would eliminate a low-cost carrier from the market.
Filed on 7 March in US District Court for the District of Massachusetts, the complaint contends that the $3.8 billion deal would eliminate Spirit – "the largest, fastest-growing ultra-low-cost carrier in the United States" – to the detriment of air travellers.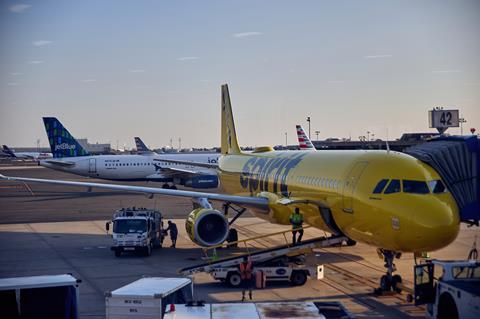 Now, JetBlue is fighting two federal antitrust lawsuits in the same court, the other being a DOJ suit seeking to block JetBlue's partnership with American Airlines.
JetBlue has been planning to buy Spirit by the first half of 2024 and says it continues working along the same timeline despite the lawsuit, adding that it had for months anticipated the legal challenge. "We have always accounted for that in our timeline, to close the transaction in the first half of 2024," JetBlue says.
The DOJ says its lawsuit counters decades of consolidation in the airline industry, which has left consumers with fewer choices. Spirit's presence in the market has "increased competition and brought low fares to hundreds of routes across the country", it argues.
Massachusetts, New York and the District of Columbia are also listed as plaintiffs in the lawsuit, which requests that the "defendants be permanently enjoined and restrained from carrying out this acquisition, or any other transaction in any form that would combine JetBlue and Spirit".
The DOJ argues that the deal violates the Clayton Act – a law intended to prevent unfair business practices and protect US consumers – and amounts to a "high-cost, high-fare airline buying a low-cost, low-fare airline".
"If the acquisition is approved, JetBlue plans to abandon Spirit's business model, remove seats from Spirit's planes and charge Spirit's customers higher prices," the DOJ says. "JetBlue's plan would eliminate the unique competition that Spirit provides – and about half of all ultra-low-cost airline seats in the industry – and leave tens of millions of travellers to face higher fares and fewer options."
Spirit's no-frills model – where extra bags, seat assignments and in-flight snacks are charged separately from air fare – keeps its prices relatively low. "The rest of the industry – including JetBlue – has been forced to respond to Spirit's innovations and low prices," the DOJ says.
For example, Spirit estimates average fares fall 17% when it starts flying routes and rise 30% when it drops routes, the DOJ says.
"Where JetBlue and Spirit compete, travellers win," the DOJ says. The DOJ adds that the so-called "Spirit effect" benefits "cost-conscious" air travellers – those who might forego air travel altogether if fares are too expensive.
JetBlue maintains it is more effective than Spirit at bringing down fares of major US airlines, however. "JetBlue's unique combination of low fares and great service is a competitive force that keeps the legacy carriers on their toes and results in lower fares," the airline says.
The New York-based airline further argues that JetBlue and Spirit compete primarily with other airlines, not each other, and overlap on only 11% of nonstop routes.
In an effort to placate the DOJ, JetBlue has offered to sell Spirit's gates in Boston and New York, as well as five gates at Fort Lauderdale-Hollywood International airport, to other ultra-low-cost carriers (ULCCs).
JetBlue says the ULCC market would "continue to thrive" following its acquisition of Spirit: "Because many Spirit aircraft will continue to fly in their current configuration during the retrofitting process after the transaction closes, there will be no short-term change in capacity."
The JetBlue-Spirit combination would represent the USA's fifth-largest airline behind American, Delta Air Lines, Southwest Airlines and United Airlines, according to Robin Hayes, JetBlue's chief executive.
"Customers deserve a competitive airline marketplace and we will pursue this merger to ensure they get it, continuing to disrupt the legacy airlines with low fares and award-winning service that even the DOJ has applauded," Hayes said on 7 March. "We believe the DOJ has got it wrong on the law here and misses the point that this merger will create a national low-fare, high-quality competitor to the big four carriers which – thanks to their own DOJ-approved mergers – control about 80% of the US market."
Spirit's shareholders voted to approve the acqusition by JetBlue in October 2022. But that approval came only after JetBlue orchestrated what amounted to a hostile take over. Fellow ULCC Frontier Airlines had initially, in February 2022, bid to acquire Spirit with a mixture of cash and stock, for the purpose of forming a larger ULCC to counter JetBlue and other much-larger competitors.
In April 2022, JetBlue submitted its own higher-priced, all-cash offer for Spirit. Still, Spirit's board of directors and chief executive Ted Christie stood firm, saying they favoured the Frontier deal, which they argued was less likely to face government antitrust scrutiny.
After JetBlue sweetened its deal, and amid increasing pressure from shareholders, Spirit's board eventually caved, approving JetBlue's terms in July last year.
"We will vigorously defend our position that a combined JetBlue and Spirit will be a game-changer for customers nationwide, creating the most compelling national low-fare challenger to the dominant US carriers," Christie said in resonse to the DOJ's lawsuit. "Together, we intend to democratise flying for travellers across the country – a goal we believe is worthy of the government's support."
The JetBlue-Spirit deal was already highly scrutinised during trial proceedings last year in Boston, where American and JetBlue defended themselves against a separate DOJ lawsuit seeking to unwind their "Northeast Alliance". DOJ lawyers argued the American-JetBlue tie up would violate federal antitrust law, especially in light of JetBlue's proposed acquisition of Spirit. A decision on that deal is expected this year.
Spirit lost $271 million during the fourth quarter of 2022, compared with an $87 million loss during the same three months of 2021, as operating expenses surged and the carrier struggled with its on-time performance and aircraft utilisation.