US lawmakers have proposed hiking the mandatory retirement age for US airline pilots to help alleviate what airlines say is an increasingly acute pilot shortage.
The move is already spurring praise from the association representing US regional airlines, and scorn from the largest US pilots' union.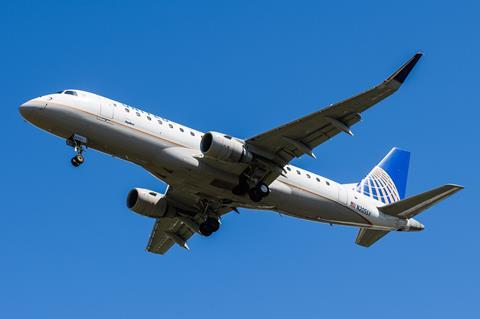 Texas congressman Chip Roy and South Carolina senator Lindsey Graham proposed legislation on 25 July that would allow commercial airline pilots to work until age 67, up from age 65.
"The pilot shortage is a direct contributor to the unprecedented number of flight delays and cancellations Americans are experiencing on a regular basis," says Roy's office. "Upping the retirement age would "immediately alleviate" the shortage, he adds.
The proposed legislation follows other efforts by US airlines to shore up their pilot supply. This year, US regional carriers Republic Airways and SkyWest Airlines requested regulatory exemptions that would allow them to staff aircraft with pilots having less than the required 1,500h of flight time. SkyWest is seeking to operating flights as charters, which can be staffed by pilots with fewer hours.
US regional airlines say the 1,500h requirement – unique in the world, and stemming from a deadly 2009 crash near Buffalo – significantly hinders the inflow of new pilots.
The Regional Airline Association has thrown its support behind the proposed 67-year retirement cap. The change "would help alleviate the current pilot shortage that has led airlines to ground aircraft and remove service from hundreds of US communities", the group says.
But Air Line Pilots Association, International (ALPA) has came out swinging.
"ALPA strongly opposes this proposed legislation, as there is no reason to change the retirement age, and doing so would only increase costs for airlines and introduce unnecessary risks to passengers and crew," says union president Joe DePete.
"Airlines are struggling because "some US airlines have clearly failed to plan for the industry's comeback", DePete adds.
ALPA maintains the US airline industry does not actually face a shortage of pilots, saying federal data shows an uptick in newly certificated pilots.
That assertion contradicts much of the rest of the airline industry. In recent months, carriers have cut flights and destinations, citing too few pilots. A new Boeing forecast predicts the global airline industry will need 602,000 pilots to meet demand during the next 20 years.
Airlines for America, which represents the largest US carriers, declines to comment specifically about increasing the retirement age.
However, the group says US airlines have "trimmed their summer capacity by 16% and adjusted their staffing models to account for the time it takes to hire and train new employees".
Regional airlines tend to be affected first by pilot shortages. New pilots typically start their carriers at smaller airlines before being scooped up by major carriers.
Story updated on 19 September 2022 to clarify that SkyWest's is seeking to operate some flights as charters, which can be flown by pilots with less flight time.