US lawmakers in Washington, DC have submitted a bi-partisan relief package worth $908 billion to extend coronavirus-crisis-driven financial aid after the previous bill, called the CARES Act, expired on 1 October.
Democratic Senators Mark Warner and Ron Wyden on 1 December led a group of 30 members of Congress from both parties who favour the bill as a stop-gap measure before the new administration takes office in January.
Of the $908 billion, the transportation industry would receive about $45 billion, with reports saying that airlines would get about $17 billion in payroll support. That would extend the programme an additional four months.
The airlines had been looking for an additional six moths' aid, or $25 billion.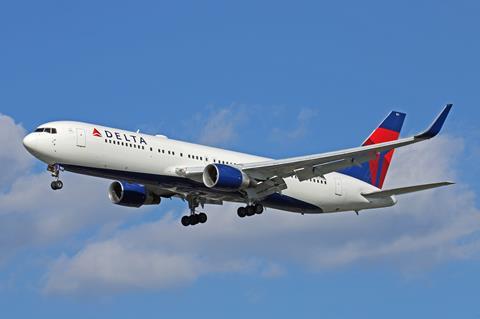 "It would be stupidity on steroids if Congress left for Christmas without doing an interim package as a bridge," says Democratic Senator Mark Warner.
Republican Senator Mitt Romney adds, "It's simply unacceptable for us not to respond to help in this circumstance. The only time to borrow money is in a crisis, and this is a crisis."
Congress passed the previous $2 trillion package in March, with $58 billion in grants and loans that supported the air transport industry through the end of the third quarter. A condition of accepting the aid was that airlines refrain from exercising involuntary lay-offs until 30 September. When that bill expired, the US aviation industry shed about 30,000 jobs.
Some carriers, including Atlanta-based Delta Air Lines came to agreements with union representatives on cost-cutting measures in order to avoid mass layoffs.
Though the two opposing political parties attempted to negotiate an extension of the government support in October, talks stalled and ended in a stalement prior to the presidential election in early November. Democrats favored a $2.2 trillion extension while Republicans were only willing to approve about one quarter of that amount.
But the prospects of the new bill passing Congress are slim. Senate majority leader Mitch McConnell shot down the bill, saying "We just don't have time to waste time."
Nonetheless, US airlines say they are pleased with the proposal and look forward to movement in the discussions.
"We appreciate the bipartisan group of senators who pro-actively negotiated the framework for a much-needed, comprehensive relief package for our country which would include provisions intended to help airlines make payroll and protect the jobs of our industry's hardworking employees," writes Airlines for America (A4A) chief executive Nicholas Calio. "We continue to hold out hope that Congress will act swiftly to preserve the jobs of these hard-working men and women in the U.S. airline industry."
The country's regional airlines also say that the bill makes "significant progress" toward helping employees in the industry who may be at risk of permanently losing their jobs, the sector's trade group, the Regional Airline Association (RAA), says.
"We are grateful that today's package includes a partial extension of the highly successful Payroll Support Program, which supports airline workers by keeping them on payroll, where they are needed to serve hundreds of smaller communities who rely on them for air service," RAA chief executive Faye Malarkey Black says.
"Every dollar of this funding is used exclusively in support of airline non-executive payroll. In turn, small communities benefit because they rely on these workers for their air service," she adds.