The US Department of Transportation (DOT) wants to require airlines to provide certain accommodations to passengers affected by flight delays and cancellations caused by factors within airlines' control.
The agency on 8 May disclosed its intention to propose such rules, which it says will better protect airline passengers and prompt carriers to improve operational reliability.
The plan is the latest in a series of moves by the DOT aimed addressing practices within the US airline industry that regulators view as anti-consumer.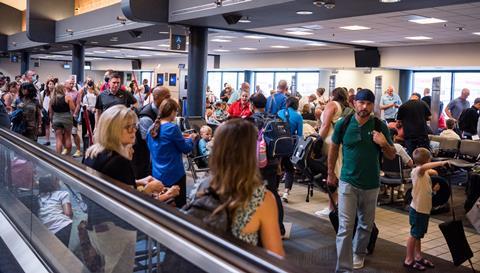 "This rule would, for the first time in US history, propose to require airlines to compensate passengers and cover expenses such as meals, hotels and rebooking in cases where the airline has caused a cancellation or significant delay," says secretary of transportation Pete Buttigieg.
The DOT says its planned regulations would apply to "controllable delays and cancellations" – meaning disruptions within airlines' control. The DOT intends to define such circumstances.
The agency does not say when it intends to issue a formal regulatory proposal.
Asked about its timeline, the DOT says, "This is a priority for the administration and we're working expeditiously to issue a proposal".
While mentioning compensation for meals and hotel rooms, initial information released by the DOT does not specify an intention to require airlines pay additional cash compensation to disrupted passengers.
By comparison, the European Union has long required airlines to compensate passengers – including with hefty cash payments – for flight disruptions.
The DOT says its proposal will also seek to require airlines to provide "timely customer service" during operational disruptions. "The department believes that this rulemaking could result in improved airline on-time performance."
Airline trade group Airlines for America (A4A) declines to comment specifically about the proposal.
"US airlines have no incentive to delay or cancel a flight and do everything in their control to ensure flights depart and arrive on time," the group says.
US airlines made headlines on multiple occasions in the last year for operational disruptions that left thousands of passengers stranded at airports nationwide.
Some passengers waited days for flights following cancellations. Videos circulating on social media showed masses of stranded passengers, many sleeping on airport floors.
The problems prompted widespread criticism of an industry some say has not been held adequately accountable for customer service shortcomings.
US carriers have noted that some recent disruptions resulted from factors outside their control, such as bad weather and air traffic control (ATC) issues. But other events – notably Southwest Airlines' December 2022 operational meltdown – resulted from issues within airlines' purviews.
"Extreme weather" caused more than half of flight cancellations last year, and "the majority of flight cancellations" so far this year have resulted from weather and ATC "outages", A4A says.
"Carriers have taken responsibility for challenges within their control and continue working diligently to improve operational reliability," it adds, noting that airlines have hired more workers.
A4A says it supports "robust marketplace competition that provides transparency and vast options for consumers".
The DOT under president Joe Biden has taken a stronger stance against perceived anti-consumer practices by US airlines.
In 2022, it rolled out a website – flightrights.gov – that specifies each large US airline's voluntary "customer service commitments". The website shows, for instance, which carriers provide free guaranteed adjacent seating for families, and specifies, by airline, compensation and rebooking practices.
The DOT has also proposed a rule seeking to require airlines to notify passengers affected by cancellations that they are entitled to a ticket refunds. Another proposed DOT rule would require airlines and online travel agencies to more-prominently disclose fees, such as for baggage and flight changes.