US start-up airline Airbahn appears to have quietly shelved its launch plan after regulators failed to renew an operating certificate and its only aircraft recently left the USA.
The carrier could not be reached for comment, but Airbahn's airframe, a 12-year-old Airbus A320 with the registration N786PB, was flown from Los Angeles-area Ontario International airport to Bangor, Maine on 23 June, according to flight-tracking website FlightAware.com.
On 26 June, the website tracked the aircraft flying from Bangor to East Midlands airport in the UK.
The A320 had been leased from Pakistan's AirBlue, according to Cirium fleets data.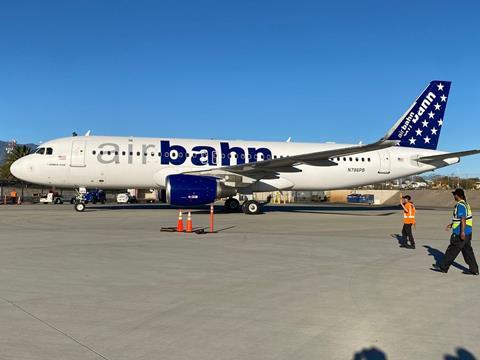 Numerous attempts to reach Airbahn chief executive Tariq Chaudhary – who is also AirBlue's chief executive – for further information were unsuccessful. Emails to him were returned to sender as "undeliverable".
The carrier's website, which had been nothing more than a recruiting platform, now reports, "No job openings are available at this time". Airbahn's last posts on social media networks Facebook and Twitter were on 20 June.
The company had received US Department of Transportation (DOT) approval for a certificate of Public Convenience and Necessity in 2020, giving Airbahn a green light to carry passengers, mail and cargo. But new airlines also require FAA certificates, and must pass a five-phase process to prove compliance.
In February, now-former chief operations officer Scott Hall told FlightGlobal Airbahn was in phase three, and that its timeline had repeatedly shifted due to the vagaries of the commercial aviation industry's pandemic recovery, which made planning difficult.
That said, the carrier was aiming to launch revenue service ahead of the summer travel season.
But on 30 April, the carrier's DOT certificate expired. Airbahn CEO Chaudhary requested an extension until 30 August, which DOT denied.
"The department, in consultation with the FAA, determined that Airbahn was not close to obtaining the safety certification it needed to conduct operations," DOT wrote in its rejection, dated 31 May. "In addition, more than two years have elapsed since the Department found Airbahn fit, and the air carrier has yet to submit the necessary information to make its authority effective."
The company had been conceived as a "value carrier" that would initially serve cities on the US West Coast and "occupy the lane between Spirit and Delta", Hall had said.
The airline would have been the third US start-up to launch operations since Covid-19 brought the industry to a near-standstill in March 2020. The others are Avelo Airlines, which launched in April 2021, and Breeze Airways, which began operations a month later.