Start-up carrier Red Way is ceasing operations roughly two months after launching out of Lincoln, Nebraska, ending an experiment that involved a unique low-cost business model.
"We face insurmountable challenges as a small start-up in our industry, and the compounding of costs and lack of resources have made it impossible for us to sustain operations," Red Way said on 23 August via Facebook. "It is our hope that other carriers see the incredible potential, and with their economies of scale, are able to provide Lincoln with the service it is so worthy of."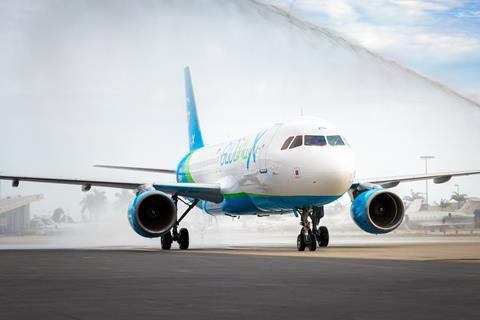 The carrier's last day of operations will be 31 August. All flights scheduled for September and beyond have been cancelled and customers will be fully refunded, Red Way says.
"We want to assure all those who have booked travel in this period that we are committed to ensuring a smooth and safe operation until our very last flight," it adds. "We expect all refunds to be complete by the end of the week."
Red Way launched In June with a focus on flying to leisure destinations throughout the USA. Red Way handles the customer-facing aspects of the business – such as marketing, ticket sales and checking baggage – while flights are operated by Miami-based charter carrier Global Crossing Airlines (GlobalX).
GlobalX did not immediately comment on how Red Way's closure will affect its business and operations.
Red Way's chief executive Nickolas Wangler told FlightGlobal last month that he had high hopes of revitalising air service in Lincoln and proving that the model was worth replicating in other underserved US cities.
However, signs of trouble emerged shortly after the airline's launch. The carrier quickly dropped three of its original destinations – Atlanta, Austin and Minneapolis – with markets for those cities failing to develop as expected.
The carrier has benefited from strong community backing, as Red Way's launch was supported by $3 million in American Rescue Plan Act funding through a partnership with the city of Lincoln and Lancaster County.
The Lincoln Airport Authority Board says it is "disappointed by the ultimate outcome of Red Way's service in Lincoln", adding that the airport has terminated its contract with the ULCC after being informed by airline executives that Red Way's operations were "not viable".
"This is extremely disheartening for the airport after all the efforts the community, city, county, airport authority board members and employees have put towards bringing affordable new air service to Lincoln," it adds.
"The financial support that Lancaster County and the city of Lincoln committed through the American Rescue Plan Act – coupled with the unrelenting efforts of the airport, University of Nebraska, passengers and others – ensured that everything possible that could be done to see the effort succeed had been done," says the airport board.
The board vows to continue pursuing "sustainable air service" for the community. Lincoln airport has previously attempted to attract established ULCCs and will seek to "show airlines and other businesses that Lincoln is worth investing in".