US start-up carrier GlobalX Airlines hopes to begin passenger charter flights this week.
"We will put an airplane into the air and get revenue from it, if it's by Friday or over the weekend, it will happen very, very soon," says chief executive Ed Wegel during a 4 August investor call. "A number of people have called to see if they could be the first ones to fly with us. We will be in the air very shortly."
The airline announced earlier on 4 August that it received an aircraft operating certificate from the Federal Aviation Administration. It is waiting final approval from the US Department of Transportation (DOT), which executives say could come as early as today.
Formed by a Canadian company, Miami-based GlobalX has received FAA clearance to fly under Part 121 rules, which apply to large scheduled airlines.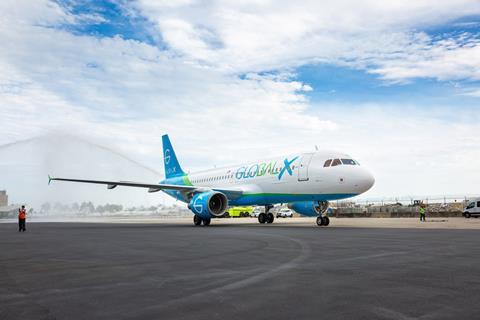 The airline has a single Airbus A320 and has started the process of adding a second aircraft – an A321 – to its flight certificate, it says. The carrier expects to receive two more aircraft this year – one in the third and one in the fourth quarter.
Its first aircraft (registration N276GX) was manufactured in 2006 and previously operated by Frontier Airlines, according to Cirium data.
Wegel says the company, which already has 121 employees, "could be at 14 airplanes by the end of 2022", and 25 by the end of 2023.
The airline intends to operate charters from Miami and Atlantic City, New Jersey, to destinations in the USA, Caribbean and Latin America. GlobalX's partners include casinos, cruise lines, resorts and cargo companies, it says.
The company has hired 15 flight attendants at its Atlantic City base, and started a pilot-training class with four pilots. Atlantic City is about 120 miles (192km) southwest of New York City.
The airline will locate one aircraft in Atlantic City from October, allowing it to compete effectively for contracts to operate charter flights out of the Northeast USA, Wegel says.
Connect already has a "significant number of charter contracts" and will be flying to Newark, Pittsburgh, Dallas-Fort Worth, Charlotte, Atlanta and Detroit by the middle of August, says chief marketing officer Mark Salvador.
The carrier has grander ambitions.
Wegel says Connect could possibly fly cargo for Amazon, though he does not elaborate. Connect is also looking at locations in the western USA – including Las Vegas, Phoenix and Salt Lake City – where it might establish a base. And Connect aspires to be certified to fly to Europe, Wegel adds.
"Our future is very bright, we have a great foundation, and we are ready to fly," he says.