Starting on 5 January, the USA will begin requiring a negative Covid-19 test or proof of recovery for international air travellers coming from China.
The requirements apply to travel originating in mainland China as well as Hong Kong and Macau, the US Centers for Disease Control and Prevention (CDC) said 28 December.
"Pre-departure testing and the requirement to show a negative test result has been shown to decrease the number of infected passengers boarding airplanes, and it will help to slow the spread of the virus as we work to identify and understand any potential new variants that may emerge," the CDC says.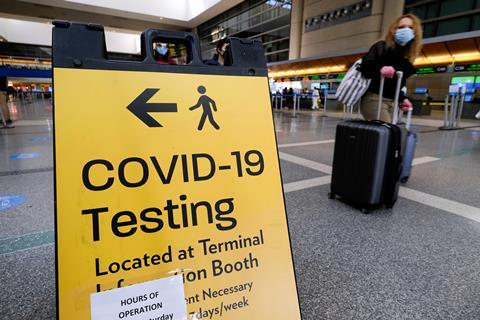 The move comes on the heels of China's recent decision to eliminate quarantine requirements and ease other Covid-19-related restrictions beginning on 8 January 2023 – just ahead of the busy Chinese travel season around the Lunar New Year, which falls on 22 January.
The US government's decision is driven by China's surging Covid-19 infection rate and a "lack of adequate and transparent epidemiological and viral genomic sequence data being reported from the [People's Republic of China]", the CDC says.
"These data are critical to monitor the case surge effectively and decrease the chance for entry of a novel variant of concern. CDC will continue to monitor the situation and adjust our approach as necessary," the agency adds.
In June 2022, the USA lifted Covid-19 testing requirements for inbound international flights, with the CDC recommending that airline passengers test for the virus prior to departure and to stay home if they're sick.
The reinstated rules will apply to all air passengers starting their journeys in in China who are two years or older regardless of their nationality and vaccination status, the CDC says. The negative test result must be within two days of their departure from the country.
The rules also apply to air travellers coming to the USA from China via a third country, such as those travelling through Seoul's Incheon International airport, Toronto Pearson International airport and Vancouver International airport, which "cover the overwhelming majority of passengers with travel originating in the PRC", the CDC says.
Passengers who tested positive for Covid-19 more than 10 days before their flight have the option to provide proof of their recovery rather than a negative test.
Meanwhile, US airlines are weighing their options for returning to Mainland China. Flights between the two countries currently are capped at 12 a week from both sides; both countries must agree to adjusting the cap before frequencies can increase.