Intra-European air travel is likely to see "some degree of normality" in summer 2021 as a result of positive vaccine developments, according to Ryanair group chief executive Michael O'Leary.
Noting his belief that Pfizer's vaccine will be "one of three or four" to be licensed by the end of this year, O'Leary says during a World Travel Market conference session today that he is "reasonably optimistic" they can be deployed widely enough to make a significant difference to travel demand by the middle of 2021.
"There's reasonable optimism now that summer 2021 will get back to some degree of normality," O'Leary states. "We may not get back all the way to 2019, but in short haul I see no reason why we won't go back to 75-80% of 2019."
That assumption is based on vaccines being "widely available to high-risk groups by the end of Q1", he says.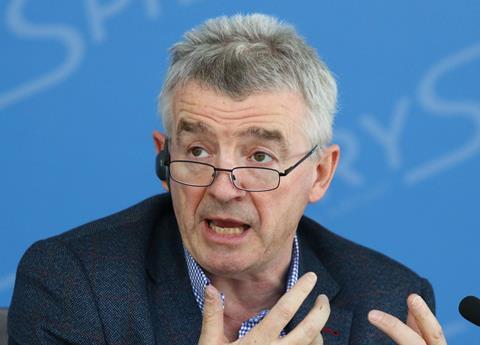 If that happens, it becomes "a question of how quickly the airlines can recover and get capacity back in the air".
O'Leary is less positive about the prospects for long-haul travel – a market in which Ryanair's airlines do not operate.
"I think [people] will be reluctant to go back to long-haul for summer 2021, but I think there is going to be an invasion of the beaches of Spain and the Algarve and the Canaries and the Balearics and Greece and Italy.
"We're really going to see a surge of that intra-European tourism next year."
The short-term outlook is less encouraging, O'Leary notes, describing the winter season as "a write-off".
November is always "a bad time of the year anyway", he explains, while expressing hope that Ryanair can "rescue some level of coverage for Christmas".
In the first months of 2021, however, the picture is unlikely to improve.
"Nothing, I think, will happen until we get to probably Easter," O'Leary states.