Wizz Air chief executive Jozsef Varadi believes air traffic control delays are likely to provide the biggest challenge this summer as the carrier bids to avoid a repeat of the operational disruption it suffered last year.
The carrier has been working to improve the resilience of its operations after it struggled to cope with delays at airports during last summer's ramp up. Coping with these operational challenges prompted it to temper its originally planned capacity growth.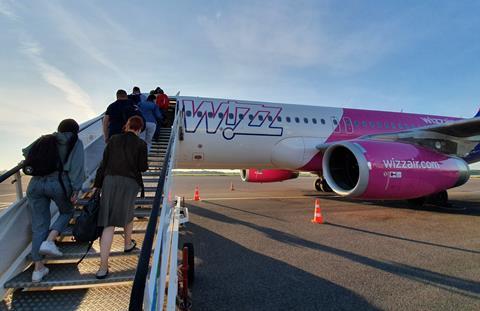 Speaking during a third-quarter results conference call on 26 January, Varadi said he is confident the airline is better placed to limit the impact of disruption following action taken last year, which includes measures like staff recruitment and use of additional spare aircraft.
"We are seeing we will be a lot more resilient coming into the summer than we were last summer… simply because we didn't have that level of resilience built in [last year]," says Varadi. "ATC [delays] may not be forcing you to cancel flights every time, but you have to be able to process longer delays than how we designed ourselves and I think that is the change in our model.
"If you look at the business, you see disruptions are moderating," he says. "But at the same time they are still a factor and we are clearly resetting the operating model to make sure we get more resilience out of the system."
Wizz must achieve that operational reliability while lifting capacity a further 30% this summer and anticipating load factors returning to pre-crisis levels as new routes mature.
"I would say ATC is going to be the trickiest constituent going into the summer. Last summer we had lots of issues with airport handling… but I think they have already fixed those issues, so I'm not expecting them to fall apart."
While acknowledging the potential for disruption from heightened social unrest across industries this year, given inflationary and economic pressures, he says: "I think that's something to be seen whether that is a real fear or not. But ATC is tangible. So that's why it's important we have the model that we are able to process [it]."
A more reliable operation is also key to the airline hitting its ambitions of restoring its previous high aircraft utilisation rates.
In releasing third-quarter results on 26 January, the budget carrier flagged its intent to reach aircraft utilisation rates of more than 12h 30min in the first half of its financial year beginning April 2023. That would mark an improvement on the 10h 30min rate for the three months ended December 2022, itself higher than the 8h 57min of a year earlier.
"We are putting fleet utilisation at the forefront of the business and utilisation is the religion of the airline," Varadi says. "The utilisation target of the business is to be reinstated to pre-pandemic levels."