Vietjet Air reports a profitable year in 2020 despite the pandemic, banking on ancillary revenue and cargo.
The airline posted a consolidated after-tax profit of D70 billion ($3 million) for the period, it said in a 31 January statement.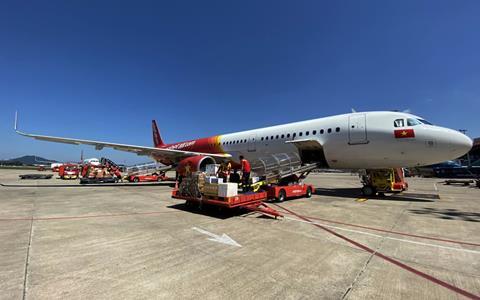 It adds that ancillary revenue accounted for nearly half of its total revenue, "showcasing Vietjet's efforts to promote ancillary services to offset decreasing air travel revenue".
Cargo was another bright spot for the airline, with volumes growing 16% in 2020 compared with the previous year. In the fourth quarter, Vietjet Air recorded a 75% increase in freight revenue year-on-year.
To boost cargo capacity, the company configured some passenger aircraft for freight transportation. The airline also has interline agreements with other carriers, which enabled it to extend its cargo network to the USA and Europe.
The airline also launched Vietjet Ground Services Center at Noi Bai International Airport in Hanoi, which has "helped the airline better manage its operating costs while improving the brand recognition and service quality".
The airline has made "drastic cuts to operating expenses", trimming 10% from fleet operations, securing 20-25% discounts with suppliers and a further 10% reduction in daily operating costs. Notably, the airline has had "no workforce reduction".
Vietjet says that it "successfully hedged" jet fuel in May 2020, resulting in 25% cost savings versus market price.
In 2020, the airline operated 78,462 flights and carried more than 15 million passengers, while load factor was over 80%.
The airline says it has since resumed flying across its entire domestic network of over 47 routes.
It states: "The airline has received support from the government for tax discounts, tax-payment extensions and reductions in landing/take-off fee, ground services fee and air control fee, as well as being considered for the government's financial aid proposal for local airlines."