AirAsia X has hit back at its critics — including what it calls "pundits" hoping the airline would be liquidated — in a strongly-worded statement after it gained creditors' approval for debt restructuring.
Calling the impending restructuring a "wide and deep reset", AirAsia X stresses that its scheme is "all encompassing, comprehensive and covers all creditors without being restricted to a particular class or groups of creditors".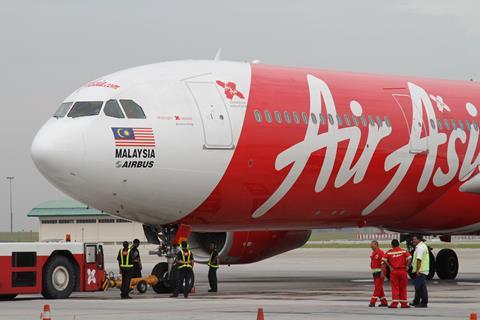 It points out that its initial proposal — issued in October — was "comprehensively rejected and widely derided" by several quarters as "wholly inadequate and unreasonable".
"However, through a process of many transparent discussions on our business plan and alignment of common business interests, all major creditors have agreed that the combined interests of the various groups of stakeholders are best served by allowing the airline to proceed with the scheme intact and without substantial changes to what was initially presented," AirAsia X states.
Following a series of court-convened creditor meetings on 12 November, the carrier secured "near unanimous" approval for its restructuring plan, paving the way for court sanction and implementation.
"With the completion of this exercise, [AirAsia X] will be one of very few airlines worldwide that has no gearing and a restructured cost base that is significantly below that of its competitors in the region and will be in an excellent position to capture leisure travel and cargo opportunities post-Covid," it states.
While the carrier is grateful for "overwhelming" support from creditors, it saved its harshest words for its detractors, including "several local aviation pundits".
Without naming its critics, AirAsia X called out their actions: "[Several] local aviation pundits have continued aggressively to advocate a liquidation of [AirAsia X] arguing without basis that the airline is moribund, terminally ill and with no valid reason not to be liquidated."
It adds: "[AirAsia X] welcomes a dialogue with these experts and to be given an opportunity to update them on developments in a rapidly changing global aviation business and to provide them a better understanding of Malaysian restructuring laws for a more informed appreciation of how and why the restructuring scheme was framed in the manner and structure it was."
As for those who "are still questioning [AirAsia X's] contribution to the nation", the carrier says prior to the coronavirus pandemic, it carried large numbers of international tourists into Malaysia, thus making a significant contribution to the country's economy. The majority of the airline's workforce is Malaysian, and the airline says it is "also a consumer of the services of airports and a wide range of goods and services from local suppliers".