Virgin Atlantic now does not expect to return to the black until 2024 after today disclosing it cut pre-tax losses before exceptionals to £206 million ($260 million) in 2022.
The UK carrier had a year ago projected it would return to profit in 2023 but today says 2023 will be "a year of delivery" with a return to profit expected in 2024.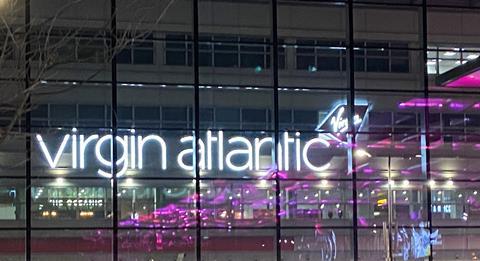 While Virgin remained in the red, it did sharply reduce pre-tax losses from the £594 million it lost in 2021.Virgin's net loss of £342 million was down £144 million on 2021.
The improved result was driven by revenue tracking ahead of expectations at £2.9 billion last year, reaching 98% of 2019 income. That was achieved on capacity at only four-fifths of pre-pandemic levels, illustrating the strength of yields in 2022. Virgin's passenger unit revenue was 23% higher than in 2019.
The airline adds that its underlying EBIT of £71 million was on a par with 2019, and that it posted an underlying EBITDA of £310 million.
However, though it expects to increase underlying EBITDA again in 2023 to a new record, it says the combined effects of "a weak pound, persistent high inflation, fuel prices and rising interest rates mean a return to profitability is now expected in 2024".
Virgin Atlantic chief financial officer Oli Byers says: "Our 2022 financial results reflect the first year of recovery following the immense challenges faced by our industry due to the Covid-19 pandemic. Our financial and operational performance demonstrates that our plan is working.
"We have cause for optimism as demand for travel has remained strong through the first quarter of 2023 balanced with continued macro-economic uncertainty. We anticipate growing underlying EBITDA in 2023 and are on track to return to profitability in 2024."
Virgin Atlantic chief executive Shai Weiss adds: "Belief, determination, and conviction ensured our survival. In 2022, it allowed us to move into recovery by proving that our plan is working. In 2023, it is propelling us into our year of delivery."