Virgin Atlantic has signed a memorandum of understanding to become a customer for a proposed direct air capture (DAC) facility in Scotland.
The UK carrier says the technology – which strips carbon dioxide from air and deposits it underground – could be a "powerful tool" as it seeks to reach net-zero CO2 emissions by 2050.
"Innovation and sustainability leadership is firmly in our DNA and we're excited to be the first in the aviation industry to partner with Storegga to progress the development of direct air capture solutions in the UK," says Virgin Atlantic chief commercial officer Juha Jarvinen. "We hope that early adoption of this technology and development of a facility here in the UK will demonstrate the commercial potential of DAC and inspire other businesses to be involved."
According to the two businesses hoping to develop the facility – Storegga and partner Carbon Engineering – "DAC provides a high quality, cost-effective way to permanently eliminate CO2 emissions from the atmosphere".
They note that the technology could also remove CO2 emissions "from the past", meaning it could go further than net-zero targets "to achieve net negative emissions and full climate restoration".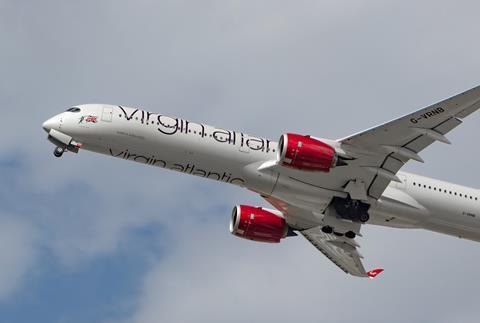 The project is in the preliminary design and engineering phase, but based on current plans would remove 1 million tonnes of CO2 from the atmosphere annually, with first operations targeted for 2026. On that basis, it could be the first large-scale DAC facility in Europe, the businesses claim.
Virgin Atlantic's 2019 sustainability report – the most recent one available on its website – suggests the carrier was responsible for the equivalent of 5.5 million tonnes of CO2 emissions in 2018.
DAC's role in airline sustainability targets was in the headlines earlier this year when United Airlines said it would make a "multi-million investment" in the process through a company called 1PointFive.
Amid so many uncertainties regarding the chances that new fuel, engine and aircraft technologies will deliver sufficient emissions reductions in the coming decades, United chief executive Scott Kirby said: "The only way we can truly make a dent in carbon… is through direct-air capture and sequestration. It is the only solution that is real, permanent and scalable."
Opinions on the use of DAC technology are mixed, however, with some people cautioning it remains unproven that it can be rolled out on an industrial scale.