Virgin Atlantic will reduce its flight schedule by 80% and park three-quarters of its fleet by 26 March, in addition to asking staff to take eight weeks of unpaid leave as it seeks to conserve cash and safeguard its future.
The UK carrier says it is taking the "drastic measures" in response to the ongoing coronavirus crisis, which has resulted in "a huge volume of cancellations as customers choose to stay at home".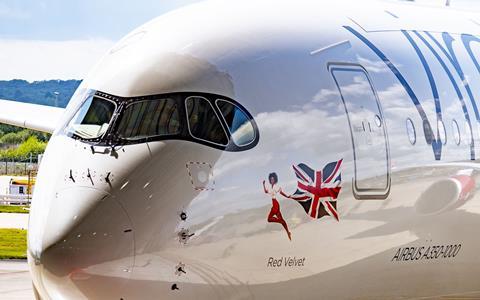 Virgin Atlantic will ground 75% of its fleet by 26 March, rising to 85% in April, as it slashes its flight schedule to focus on "core routes" which will be determined by customer demand. The airline's London Heathrow-Newark service is being "permanently terminated with immediate effect".
The carrier is asking employees to take eight weeks of unpaid leave over the next three months, with the cost spread over six months' salary – a move it says is necessary "to drastically reduce costs without job losses".
To further reduce costs, Virgin Atlantic is offering a one-time voluntary severance package to all employees and a sabbatical of six to 12 months. Annual pay rises will be deferred, employer pension contributions will be reduced for one year, and the term of the airline's sick-pay policy will tightened to 12 weeks' full pay.
The airline's chief executive Shai Weiss will extend his 20% pay cut until the end of 2020, and the rest of the management team will take a 15% pay cut during the same period.
Virgin Atlantic has appealed to the UK government to provide emergency credit facilities to the value of up to £7.5 billion ($9.1 billion), in order to "bolster confidence in the industry" and prevent credit-card processors from withholding customer payments. The airline is also seeking slot alleviation for the full summer season, to enable airlines to match supply with demand.
"With this support, airlines including Virgin Atlantic, can weather this storm and emerge in a position to assist the nation's economic recovery and provide the passenger and cargo connectivity that business and people across the country rely on," says the carrier.